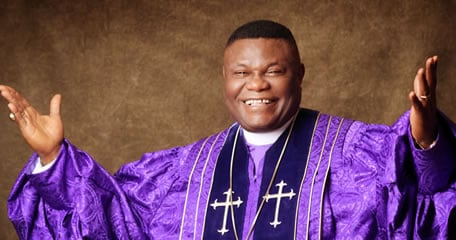 Topic: Pray In The Holy Ghost [TREM Devotional 14 October 2020]
Click HERE for Previous MESSAGES by Bishop Mike Okonkwo
"But ye, beloved, building up yourselves on your most holy faith, praying in the Holy Ghost" – Jude 20 KJV
In the Church today, scarcely do you hear people praying in the Holy Ghost. In our congregations, scarcely do you hear believers praying in the Holy Spirit, and yet, this is a grace gift that God has given to the Church for these last days. The Holy Spirit is our Helper in these last days. He is our Comforter! He is our Advocate and Intercessor. He has come to strengthen you.
Child of God, you must learn to leverage on the prayer language of the Holy Spirit. The Holy Ghost was poured out upon the Church to help, teach and guide us. He is our Counsellor who enables us to stand tall and live our lives like the gods that we are.
The Bible tells us that it is the Holy Spirit that helps our infirmities. "… For we know not what we should pray for as we ought; but the Spirit itself maketh intercession for us with groanings which cannot be uttered" (Romans 8:26 KJV). It is the Holy Spirit that intercedes for us.
The Word of God further tells us in 1Corinthians 14: 4 that he that speaks in an unknown tongue edifies himself. In verse 2, it says: "For he that speaketh in an unknown tongue speaketh not unto men, but unto God: for no man understandeth him; howbeit in the spirit he speaketh mysteries"(KJV)
In other words, whenever we engage in the prayer language of the Holy Spirit, we speak mysteries and divine wisdom that God has ordained for our glory.
The question is: When was the last time you prayed in the Holy Ghost, apart from when we gather together in the Church? When was the last time you spoke in tongues for one hour?
We must effectively engage the prayer language of the Spirit. It is a gift of grace given to us to rise above mediocrity and walk in excellence. Don't just pray in tongues this month and stop, make it an integral part of your life.
Further Reading: Acts 2:1-4; 1 Corinthians 14:1-3
Daily Bible Reading: Morning- Isaiah 43-44; Evening- 1 Thessalonians 2
Written by Dr. Mike Okonkwo; Is the Presiding Bishop of The Redeemed Evangelical Mission (TREM); a versatile man of God with over 30 years of dedicated service unto the Lord.
Flatimes' Notice Board: Until you are born again, God ever abiding presence will never be with you. You must be born again to enjoy continuous victory. Please say the displayed prayer below in faith:
Lord Jesus, come into my life. I accept You as my Lord and Personal Saviour. I believe in my heart You died and rose from the dead to save me. Thank You Lord for saving me, in Jesus name Amen.
If you just prayed the prayer of salvation online please send your testimonies and prayer request to trem@trem.org, Phone: +234 1 773 8584