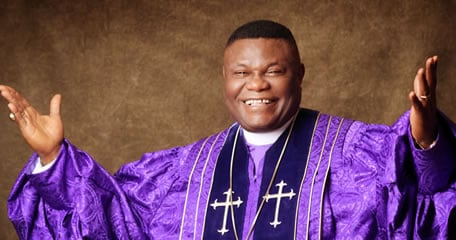 TREM Devotional 15 March 2021 Daily Devotional By Bishop Mike Okonkwo – God Loves You
Click HERE for Previous MESSAGES by Bishop Mike Okonkwo
TOPIC: God Loves You (TREM Devotional 15 March 2021)
"But God, who is rich in mercy, for his great love wherewith he loved us, Even when we were dead in sins, hath quickened us together with Christ, (by grace ye are saved." Ephesians 2:4-5. KJV
According to God's word, while we yet sinners and without strength, Christ died for us. You didn't qualify but He qualified you: "…And from Jesus Christ, who is the faithful witness, and the first begotten of the dead, and the prince of the kings of the earth. Unto him that loved us and washed us from our sins in his own blood, and hath made us kings and priests unto God and his Father…" (Revelation 1:5-6 KJV).
Look at the progression: He has always loved you. He will always love you and will never stop. It is not predicated on what you did or not. God loves you just the way you are. He knows you in and out, your weakness and shortcomings; still, He loves you. When human beings know your weakness, when you make a mistake, they will stop loving you. But God's love is unconditional. It never comes empty because He is favorably disposed to dispense only good. Hence, it is an abuse of redemption to expect bad in your life. No matter where you are right now, it can never be worst in your life.
The believer's life is from glory to glory. It may not look as if many things have happened. Many times, God seems to be silent but then He is always working behind the scene. When your blessing is delayed, it is because it is a big blessing.
You will certainly sing a new song. "And they sung a new song, saying, Thou art worthy to take the book, and to open the seals thereof: for thou was slain, and hast redeemed us to God by thy blood… And hast made us unto our God kings and priests: and we shall reign on the earth" (Revelation 5:9-10 KJV). He has made us all in His own responsibility! Why won't I love him? How can I possibly pay back for all His goodness?
FURTHER READING:
Ephesians 1:1-23
DAILY BIBLE READING:
Morning – Deuteronomy 22-24
Evening – Mark 14:1-26
Written by Dr. Mike Okonkwo; Is the Presiding Bishop of The Redeemed Evangelical Mission (TREM); a versatile man of God with over 30 years of dedicated service unto the Lord.
Flatimes' Notice Board: Until you are born again, God ever abiding presence will never be with you. You must be born again to enjoy continuous victory. Please say the displayed prayer below in faith:
Lord Jesus, come into my life. I accept You as my Lord and Personal Saviour. I believe in my heart You died and rose from the dead to save me. Thank You Lord for saving me, in Jesus name Amen.
If you just prayed the prayer of salvation online please send your testimonies and prayer request to trem@trem.org, Phone: +234 1 773 8584