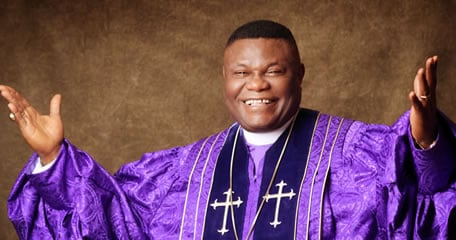 TREM Devotional 19 January 2021 Daily Devotional By Bishop Mike Okonkwo – Reposition Yourself For God's Plan
Click HERE for Previous MESSAGES by Bishop Mike Okonkwo
Topic: Reposition Yourself For God's Plan (TREM Devotional 19 January 2021)
"Now the Lord had said unto Abram, Get thee out of thy country and from thy kindred, and from thy Father's house, unto a land that I will show thee" Genesis 12:1 KJV
Abraham would have died without being the father of faith if he had remained in Haran. The Scripture tells us that his wife was barren, he was already old and his father died there. He would have remained there, but thank God he did not. God called them out from the Ur of the Chaldees.
Abraham had to be separated from his family in order to be positioned for what God had planned to do in his life. You also may need to depart from certain things that hinder you. You may have to give up certain habits or cut off certain friends who are not enhancing your progress. You may even need to desist from going to places that you usually go to. There are some of you who have to depart from tradition. You are going to church, you are a Christian but you are still tied to family tradition. You are wrongly positioned! You need to reposition yourself.
Beloved, only God's way is successful: "Except the Lord build the house they labour in vain that build it, except the Lord keep the city, the watchman waketh but in vain" (Psalm 127:1 KJV). Whatever God is not building will not last. It is important, therefore, that you come out from the secret things you have involved yourself in. God wants to reposition you for your next level. Abraham departed and the rest is history. When he moved out in obedience to God's Word, things began to happen in his life.
God is very specific. When He called Abraham, He gave Him direction. Now that He has called you, He also wants to give you direction. You have to reposition yourself to receive all that He has in store for you and when you do, you will see His blessings in a dimension you never imagined. I declare that the enemy will not shortchange you.
Further Reading: Genesis 12:1-4, 2 Corinthians 6:14-18
Daily Bible Reading: Morning- Genesis 46-48/ Evening- Matthew 13:1-30
Written by Dr. Mike Okonkwo; Is the Presiding Bishop of The Redeemed Evangelical Mission (TREM); a versatile man of God with over 30 years of dedicated service unto the Lord.
Flatimes' Notice Board: Until you are born again, God ever abiding presence will never be with you. You must be born again to enjoy continuous victory. Please say the displayed prayer below in faith:
Lord Jesus, come into my life. I accept You as my Lord and Personal Saviour. I believe in my heart You died and rose from the dead to save me. Thank You Lord for saving me, in Jesus name Amen.
If you just prayed the prayer of salvation online please send your testimonies and prayer request to trem@trem.org, Phone: +234 1 773 8584