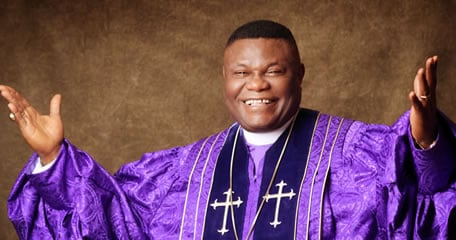 TREM Devotional 21 October 2021 Daily Devotional By Bishop Mike Okonkwo – Understand Your True Image And Identity
Click HERE for Previous MESSAGES by Bishop Mike Okonkwo
TOPIC: Understand Your True Image And Identity (TREM Devotional 21 October 2021)
"But ye are a chosen generation, a royal priesthood, an holy nation, a peculiar people; that ye should shew forth the praises of him who hath called you out of darkness into his marvellous light." 1 Peter 2:9 (KJV)
If you release a lion into the jungle, you have only succeeded in putting it in its natural habitat. No matter how prevalent hunger is in the jungle, a lion will not eat grass because it knows its identity and the environment it was created to function in.
The first Adam fell, and then he started struggling. He also lost his identity and began to run away from the devil; that ought not to be. The devil should see you and be on the run. That is how God purposed it. Thank God, His plan for you cannot be aborted, "for the gifts and calling of God are without repentance" (Romans 11:29). That is why I know you will get to God's destination for your life. Immediately man fell, God initiated a plan to restore him. Man had been struggling to cover himself with leaves, but the leaves got dry and he became naked again. So God took an animal, slaughtered it, skinned it and covered the man. He purposed that man, made in His image should not be naked. I declare that you will not be naked.
Now, the slaughtering of that animal was a type of Jesus. Jesus came to destroy the works of the devil: "…for this purpose the son of God was manifested, that he might destroy the works of the devil" (1 John 3:8 KJV). 1 John 3:5 says: "And ye know that he was manifested to take away our sins; and in him is no sin" (KJV).
Beloved, the works of the devil have been destroyed and your sins have been taken away. Understand your true identity today and the devil will flee from you. You see, it is our true image that the devil is after because he knows that if you understand who you really are, then he will no longer be able to torment you.
Further Reading:
Ephesians 1:15-23
Daily Bible Reading:
Morning – Isaiah 62-64
Evening – 1 Timothy 1
Written by Dr. Mike Okonkwo; Is the Presiding Bishop of The Redeemed Evangelical Mission (TREM); a versatile man of God with over 30 years of dedicated service unto the Lord.
Flatimes' Notice Board: Until you are born again, God ever abiding presence will never be with you. You must be born again to enjoy continuous victory. Please say the displayed prayer below in faith:
Lord Jesus, come into my life. I accept You as my Lord and Personal Saviour. I believe in my heart You died and rose from the dead to save me. Thank You Lord for saving me, in Jesus name Amen.
If you just prayed the prayer of salvation online please send your testimonies and prayer request to trem@trem.org, Phone: +234 1 773 8584