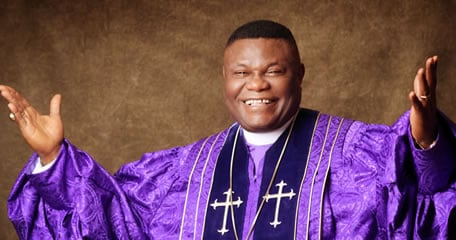 TREM Devotional 23 February 2022 By Bishop Mike Okonkwo – Favour Will Cause You To Reign
Click HERE for Previous MESSAGES by Bishop Mike Okonkwo
TOPIC: Favour Will Cause You To Reign (TREM Devotional 23 February 2022)
"For if by one man's offence death reigned by one; much more they which receive abundance of grace and of the gift of righteousness shall reign in life by one, Jesus Christ.)" Romans 5:17. (KJV)
God wants you to reign in life. It is the favor that God bestowed upon you that will cause you to reign in life. In Christ, you have received the abundance of favor and the gift of righteousness so that you may reign over every situation and every circumstance. One-touch of God's favor makes every dream come true. Just one touch! One-touch of the favor of God causes every shut door to open. Even Jesus who walked on this earth as our perfect example also walked on favor. "And Jesus increased in wisdom and stature, and in favor with God and man." (Luke 2:52 KJV).
When you leverage on favour, you will rise above every natural limitation. When you leverage on favour, you will not see impossibilities. When you leverage on favour, you will just watch doors open for you. When favour is at work in your life, you will see people do things for you, who don't even know you. Why? There is something called favor upon your life. As a believer, favor is where you dwell. The favor of God upon your life will turn insults into results. Favour cancels every disadvantage, every obstacle, and every impediment. Favour takes away disgrace from your life.
Whatever the devil has brought to disgrace and humiliate you is eradicated. You will not die but live to declare the works of God. Creation will favor you all around. The ground you walk upon will produce for you. The heavens over you remain open forever because God has crowned you with favor. Your mouth will testify of the goodness of God in the land of the living.
Further Reading:
Romans 5:1-17 1John 5:4
Daily Bible Reading:
Morning – Numbers 5-6
Evening – Mark 4:1-20
Written by Dr. Mike Okonkwo; Is the Presiding Bishop of The Redeemed Evangelical Mission (TREM); a versatile man of God with over 30 years of dedicated service unto the Lord.
Flatimes' Notice Board: Until you are born again, God ever abiding presence will never be with you. You must be born again to enjoy continuous victory. Please say the displayed prayer below in faith: Lord Jesus, come into my life. I accept You as my Lord and Personal Saviour. I believe in my heart You died and rose from the dead to save me. Thank You Lord for saving me, in Jesus name Amen.
If you just prayed the prayer of salvation online please send your testimonies and prayer request to trem@trem.org, Phone: +234 1 773 8584