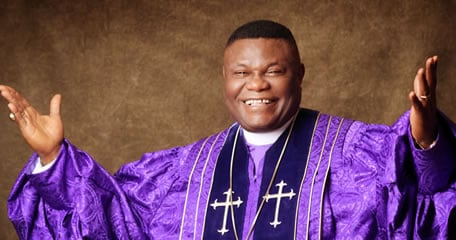 TREM Devotional 24 January 2022 Daily Devotional By Bishop Mike Okonkwo – Stop The Blame Game
Click HERE for Previous MESSAGES by Bishop Mike Okonkwo
TOPIC: Stop The Blame Game (TREM Devotional 24 January 2022)
"According as his divine power hath given unto us all things that pertain unto life and godliness, through the knowledge of him that hath called us to glory and virtue:" 2 Peter 1:3 (KJV)
God called you according to His grace which was given to us in Christ Jesus before the world began. Before He formed you in your mother's womb, He knew you and He has planned great things for your life. Making a success out of your life is now your choice. It is like somebody preparing a meal for you and calling you to a banqueting table. The napkin is there, the fork is there, the table, and the wine. Everything is prepared! And you are hungry, then when invited to come to the table, you refuse to come. You are not going to blame your host. Your host has prepared everything on the list, but you simply refused to answer the call.
There are many today who are blaming God; saying why am I the way I am? What you should be asking is why are you not appropriating what He has already given to you? Why are you not possessing what He gave to you? Why are you docile, indifferent, lukewarm, nonchalant, and expecting that it will fall on you like a bag of cherry?
What will be will be! That is not true! What will be will not be. It is your responsibility to begin to appropriate everything that has been spoken. It is your responsibility to appropriate the promises of God on your behalf. The promises have been validated in the scriptures. "He that spared not his own Son, but delivered Him up for us all, how shall he not with him also freely give us all things?" (Romans 8:32 KJV)
Whatever is a thing has been freely given to you. Whatever is a thing that will make you successful and that will make you achieve has been freely given to you.
Further Reading:
Psalms 92, 115
Daily Bible Reading:
Morning- Exodus 9-11
Evening: Matthew 15:21-39
Written by Dr. Mike Okonkwo; Is the Presiding Bishop of The Redeemed Evangelical Mission (TREM); a versatile man of God with over 30 years of dedicated service unto the Lord.
Flatimes' Notice Board: Until you are born again, God ever abiding presence will never be with you. You must be born again to enjoy continuous victory. Please say the displayed prayer below in faith: Lord Jesus, come into my life. I accept You as my Lord and Personal Saviour. I believe in my heart You died and rose from the dead to save me. Thank You Lord for saving me, in Jesus name Amen.
If you just prayed the prayer of salvation online please send your testimonies and prayer request to trem@trem.org, Phone: +234 1 773 8584