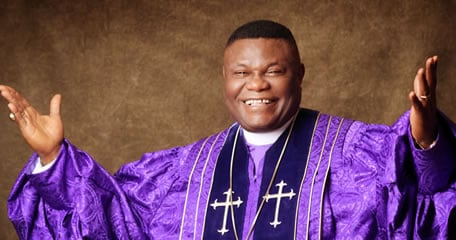 TREM Devotional 27 September 2021 Daily Devotional By Bishop Mike Okonkwo – The Benefits Of Fasting
Click HERE for Previous MESSAGES by Bishop Mike Okonkwo
TOPIC: The Benefits Of Fasting (TREM Devotional 27 September 2021)
"And when they had ordained them elders in every church and had prayed with fasting, they commended them to the Lord, on whom they believed." Acts 14:23 KJV
Do you think that fasting will change God? No! Fasting doesn't change God. God remains the same every day; God lives in the eternal now. So, He does not change. Your fasting doesn't change Him but it changes you because as we walk this Christian walk, a lot of things are distracting you. We are also bombarded with all kinds of information these days from all over the place and it can be very confusing.
What fasting does is that it helps you to become focused. Fasting strengthens you and refreshes you spiritually. Fasting makes you more sensitive to discern things. A lot of us fall into different things and make too many mistakes because we are not sensitive enough. We are also highly distracted because of too many things that we are doing. The Holy Spirit is speaking but we are not hearing. Why? We have been clogged by the world. So at times, you abstain from food, not only when we call October fast but also at your own time and regularly.
Fasting is also a time when you reduce your activities and sit still so that you can hear God and receive direction for your life. Fasting is so important for your spiritual growth and development. In the text, we see that fasting was the way of life for the early church and we have no reason to stop fasting today.
Even medically, if you want to undergo surgery, the doctor will tell you that you are not going to eat until after the surgery because your food will affect your body. So then, why are you bothered about people telling you not to fast? I know what fasting has done for me personally, so it is too late to try to convince me otherwise. It is too late in the day for anybody to preach to me not too fast or not to get committed to God.
Further Reading:
Mark 9:14-29
Daily Bible Reading:
Morning – Isaiah 3-4
Evening – Galatians 6
Written by Dr. Mike Okonkwo; Is the Presiding Bishop of The Redeemed Evangelical Mission (TREM); a versatile man of God with over 30 years of dedicated service unto the Lord.
Flatimes' Notice Board: Until you are born again, God ever abiding presence will never be with you. You must be born again to enjoy continuous victory. Please say the displayed prayer below in faith:
Lord Jesus, come into my life. I accept You as my Lord and Personal Saviour. I believe in my heart You died and rose from the dead to save me. Thank You Lord for saving me, in Jesus name Amen.
If you just prayed the prayer of salvation online please send your testimonies and prayer request to trem@trem.org, Phone: +234 1 773 8584