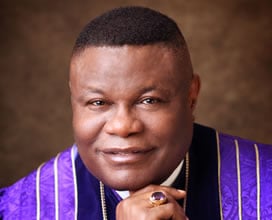 Topic: The Power In The Word [TREM Devotional Thursday June 28, 2018]
"It is the spirit that quickeneth; the flesh profiteth nothing: the words that I speak unto you, they are spirit, and they are life." John 6:63
One of the things every believer must know is the infallibility of the Word of God. The Word of God is the final authority. Nothing can be added and nothing can be removed from the Word. When the Word of God goes forth, then without fail, it will accomplish that which it is set out to do. That is the truth every child of God must settle in his or her spirit.
Jesus talking about the Word did not mince words and was not intimidated to say "… The words that I speak unto you, they are spirit and they are life". This is His own validation of the potency of His Word. His words are Yea and Amen and forever His words are settled in Heaven. So, what are you building your life on?
The time has come to stand firmly on the Word of God. Remember: what the Word of God cannot give you; 1. You don't need it and 2. It does not exist. So, hold on firmly to the Word.
What has God promised you in His Word? Can you sit down and take a moment to write down these promises? Write them down, make them into prophecies and declare them over your life until you see them manifest. The Word is true; everything gravitates in the direction of the Word. When God speaks, everything aligns. Nothing and absolutely nothing can stand against the Word. Yes, the word of man will fail, but not the Word of God. No matter how good the intention of man is, man still has limitations. Even the richest man on earth cannot fulfil his word once he is dead; but that is not like the Word of God. The Word of God works, irrespective of person and location. There is Power in the Word of God!
Further Reading: John 6: 57-63; Isaiah 55:8-11
Daily Bible Reading: Morning- Job 11-13; Evening- Acts 9:1-21
"If you missed yesterday devotional click HERE to read TREM Daily Devotional by Dr. Mike Okonkwo''
Written by Dr. Mike Okonkwo; Is the Presiding Bishop of The Redeemed Evangelical Mission (TREM); a versatile man of God with over 30 years of dedicated service unto the Lord.