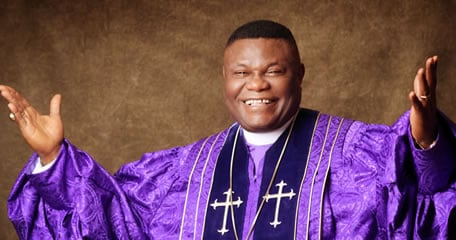 Wisdom For The Day Devotional 3 April 2023 By Bishop Mike Okonkwo: You Are Created To Display His Glory
Click HERE for Previous MESSAGES by Bishop Mike Okonkwo
TOPIC: You Are Created To Display His Glory (TREM Devotional 3 April 2023)
"But we speak the wisdom of God in a mystery, even the hidden wisdom, which God ordained before the world unto our glory: which none of the princes of this world knew: for had they known it, they would not have crucified the Lord of glory." 1 Corinthians 2:7-8 (KJV)
Wisdom For The Day MESSAGE:
God has made you a new creation to display His glory because you are a carrier of that glory. Your assignment is to show to the whole world what it is like in heaven because you carry heaven. Don't you understand that you are the problem of demonic forces? It is because they cannot understand where you are coming from. They cannot understand how you have the authority to withstand them.
The Old Testament prophets spoke about the church but could not fully understand it. "Of which salvation the prophets have enquired and searched diligently, who prophesied of the grace that should come unto you: Searching what, or what manner of time the Spirit of Christ which was in them did signify, when it testified beforehand the sufferings of Christ, and the glory that should follow. Unto whom it was revealed, that not unto themselves, but unto us they did minister the things, which are now reported unto you by them that have preached the gospel unto you with the Holy Ghost sent down from heaven; which things the angels desire to look into…". 1Peter 1:10-12
The angels were also confused! Who are these people that God is treating specially? They wondered. Who are these people that God is treating with so much favour? The glory they had in the Old Testament was 'do good, get good, do bad, get bad'. But there will be a group of people that the glory that they are going to have will not depend on what they do, but it will depend on what Christ has done. Halleluyah! We are that group of people.
The greatest honor you can do to God is to accept your acceptance. Just accept the fact that He has accepted you. Don't try to understand it.
FURTHER READING:
1 Peters 2:1-10
DAILY BIBLE READING:
Morning – Judges 19-21
Evening – Luke 7:31-50
Wisdom For The Day Devotional was Written by Dr. Mike Okonkwo; Is the Presiding Bishop of The Redeemed Evangelical Mission (TREM); a versatile man of God with over 30 years of dedicated service unto the Lord.
Flatimes' Notice Board: Until you are born again, God ever abiding presence will never be with you. You must be born again to enjoy continuous victory. Please say the displayed prayer below in faith: Lord Jesus, come into my life. I accept You as my Lord and Personal Saviour. I believe in my heart You died and rose from the dead to save me. Thank You Lord for saving me, in Jesus' name Amen.
If you just prayed the prayer of salvation online please send your testimonies and prayer request to trem@trem.org, Phone: +234 1 773 8584