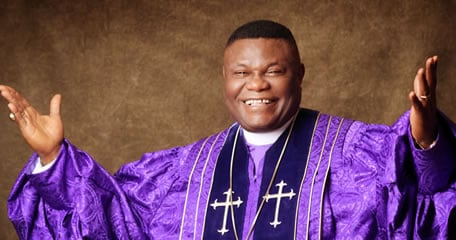 TREM Devotional 4 March 2021 Daily Devotional By Bishop Mike Okonkwo – What Can I Render?
TOPIC: What Can I Render? (TREM Devotional 4 March 2021)
Click HERE for Previous MESSAGES by Bishop Mike Okonkwo
"So then, my friends, because of God's great mercy to us I appeal to you: Offer yourselves as a living sacrifice to God, dedicated to service and pleasing to him. This is the true worship that you should offer". Roman 12:1 GNT
Paul's epistles open our eyes to what Jesus did for us. This revelation determines our response. It is not about what you are doing! It is the revelation of what He did that makes you do what you are doing. It is only from the standpoint of revelation that you can live a life of sacrifice which is worship. It is about what you're willing to do! You want to do it not because somebody is breathing down your shoulder. No! You do it because you realize and appreciate what He has done for you. So, you want to reciprocate! You are saying, ''This God is too good! What can I really do? What should I do?''
Just like the Psalmist said: "What shall I render unto the LORD for all his benefits toward me?" (Psalm 116:12 KJV). The Psalmist had to sit down, look around and count the benefits. Do you know that some of us take life for granted? Sit down and reflect! Can you really explain how come you are still alive? You slept and in the morning, you woke up. It is not the alarm that woke you up. He woke you up! If you doubt it, go to the mortuary, set off an alarm there and let's see if the dead will wake up.
Often, the devil shows you the things that you have not achieved and you start to zero in on them but if you sit down and count your blessings, you will be shocked at what the Lord has done. Beloved, it is of his mercy that you are not consumed. It is not because of your skills and intellectual abilities. "Except the LORD build the house, they labour in vain that build it: except the LORD keep the city, the watchman waketh but in vain" (Psalm127:1 KJV).
Further Reading:
Psalm 116:1-18
Daily Bible Reading:
Morning – Numbers 26-28
Evening – Mark 8
Written by Dr. Mike Okonkwo; Is the Presiding Bishop of The Redeemed Evangelical Mission (TREM); a versatile man of God with over 30 years of dedicated service unto the Lord.
Flatimes' Notice Board: Until you are born again, God ever abiding presence will never be with you. You must be born again to enjoy continuous victory. Please say the displayed prayer below in faith:
Lord Jesus, come into my life. I accept You as my Lord and Personal Saviour. I believe in my heart You died and rose from the dead to save me. Thank You Lord for saving me, in Jesus name Amen.
If you just prayed the prayer of salvation online please send your testimonies and prayer request to trem@trem.org, Phone: +234 1 773 8584