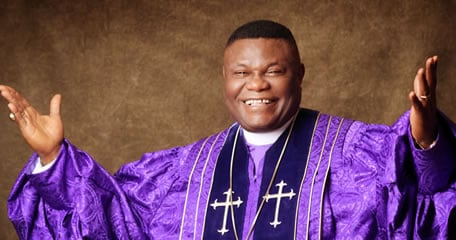 Topic: Come Before His Presence With Thanksgiving [TREM Devotional 6 December 2020]
Click HERE for Previous MESSAGES by Bishop Mike Okonkwo
"Let us come before his presence with thanksgiving and make a joyful noise unto him with psalms." Psalm 95:2 KJV
Thanksgiving is not a choice neither is it optional. In other words, it is one of the things that gives you access into God's presence.
Secondly, it is one of the things you do when you began to think of the greatness of this God.
Psalm 100:1-2 says "Make a joyful noise unto the Lord, all ye lands. Serve the Lord with gladness: come before his presence with singing" Come with singing! Not with sadness! Serve Him with gladness because there is no way you can come before Him that He will not do you good. Come before his presence with singing. why? Because it is already settled! Whatever is the challenge you have; it's already settled ever before you showed up. "Know ye that the Lord is God, it is he that hath made us and not we ourselves". (Psalm 100:3 KJV). Making you was not your own idea. Making you was His own idea. And if it is His own idea, already He has plans for you.
Everyone is in God's hands and irrespective of how you find yourself, you are still in His hands. When Noah prepared the ark and the animals were rushing in, some ran faster into the ark, but do you know that the ark wasn't shut until creatures like tortoise and ants gradually crawled in? Everyone was allowed to get in. When you consider this our God in all ramifications, there is no way you can't but thank Him. Because He has every one of us covered. So, there is no room for envy. And the beautiful thing is that your end is glorious. Your situation is not going to be worst. It will end up very well.
Therefore, always enter His gates with thanksgiving, and into his courts with praise. Be thankful unto him and bless his name". Psalm 100:4 (KJV). Never take for granted the things God has done for you. Be thankful knowing that God loves you and is working it out for your good.
Further Reading: Psalm 95:1-7; 92:1-2; 100:4
Daily Bible Reading: Morning- Daniel 3-4; Evening- 1 John 5
Flatimes' Notice Board: Until you are born again, God ever abiding presence will never be with you. You must be born again to enjoy continuous victory. Please say the displayed prayer below in faith:
Lord Jesus, come into my life. I accept You as my Lord and Personal Saviour. I believe in my heart You died and rose from the dead to save me. Thank You Lord for saving me, in Jesus name Amen.
If you just prayed the prayer of salvation online please send your testimonies and prayer request to trem@trem.org, Phone: +234 1 773 8584