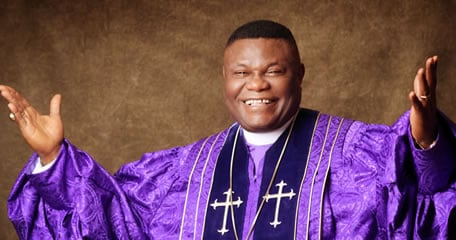 Topic: You Will Never Be Stranded [TREM Devotional 6 September 2020]
Click HERE for Previous MESSAGES by Bishop Mike Okonkwo
"And they did all eat, and were filled. And they took up twelve baskets full of the fragments, and of the fishes. And they that did eat of the loaves were about five thousand men." – Mark 6:42-44 KJV
In the book of Mark chapter 6, the Lord Jesus showed His disciples and the church as well that anyone who follows Jesus can never be stranded. Having ministered the word to the people, He decided to feed them. The bible records that 5,000 men were fed. Not even counting the women and children who ate as well and they had 12 baskets left over – all from a meal of five loaves and two fish. Now put on your imagination and think about the location of this miracle: the desert. That is why I know that you will never be stranded because God will cause rivers to break forth for you, even in desert places.
You may be operating from where looks like a desert. And may be your business or job looks barren. It does not matter because every challenge you are facing is an opportunity for God to manifest His glory on your behalf. Who would have thought that any good thing could come out from the desert where you had no supermarkets? I prophesy that you will shock your world. Your detractors shall be astonished by what God will do in your life. Do not consider the dryness of the desert. Make up your mind today to always be led by God and stay committed to Him wherever you find yourself. I encourage you to cut loose from your comfort zone and be ready to stake your life on God's promise because as long as Jesus is with you, that desert will flourish again.
And don't just seek the blessing but seek the "Blesser". This is why it is vitally important that you take advantage of every service, whether it is on a weekday or Sunday, and your fellowship group meetings because they have been designed for your good. In this day and hour when evil is walking our streets, it is very important that you hang on to Jesus because every other ground is sinking sand. Refuse to run from pillar to post because whatever the word cannot give you does not exist, and you do not need it.
Further Reading: Mark 6:31-44; Isaiah 46:3-4
Daily Bible Reading: Morning- Psalms 148-150; Evening- 1 Corinthians 15:29-58
Written by Dr. Mike Okonkwo; Is the Presiding Bishop of The Redeemed Evangelical Mission (TREM); a versatile man of God with over 30 years of dedicated service unto the Lord.
Flatimes' Notice Board: Until you are born again, God ever abiding presence will never be with you. You must be born again to enjoy continuous victory. Please say the displayed prayer below in faith:
Lord Jesus, come into my life. I accept You as my Lord and Personal Saviour. I believe in my heart You died and rose from the dead to save me. Thank You Lord for saving me, in Jesus name Amen.
If you just prayed the prayer of salvation online please send your testimonies and prayer request to trem@trem.org, Phone: +234 1 773 8584