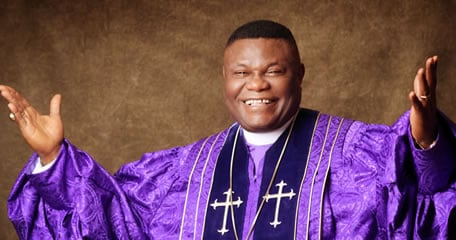 TREM Devotional 9 January 2022 Daily Devotional By Bishop Mike Okonkwo – Stand Your Ground For God
Click HERE for Previous MESSAGES by Bishop Mike Okonkwo
TOPIC: Stand Your Ground For God (TREM Devotional 9 January 2022)
"For since I spake, I cried out, I cried violence and spoil; because the word of the LORD was made a reproach unto me, and a derision, daily." Jeremiah 20:8 (KJV)
The ministry of the ancient prophet of God, Jeremiah, covered the period of just before and after the fall of Jerusalem.
Jeremiah had warned the Jews that God will send the Babylonian armies to punish them for their ungodliness. His continued emphasis on the approaching doom made him very unpopular. He was hated by Priests, princes, and the citizens in general; Jeremiah was not the regular type of preacher. He wasn't like the motivational preachers who will excite you without preparing you for the challenges that are coming. He wasn't that type!
Jeremiah was a preacher that will speak the mind of God irrespective of how hard it is. He would have probably loved to go to church and preach and let the people shout Amen. But unfortunately, his type of ministry was never that type. Jeremiah never wanted the type of ministry he received, but who are you to question God. And so Jeremiah was hated by everyone. During the final siege of Jerusalem, he was imprisoned. That was his lot for preaching and advising Jerusalem. But Jeremiah kept on preaching despite the opposition that he faced.
Jeremiah's example inspires Christians to persevere in the proclamation of the good news of the gospel irrespective of the challenges that they may face. Jeremiah's example teaches us the importance of standing irrespective of the challenges and the pressure that we will be encountering. Jeremiah was ridiculed. But he chose to stand. Today, we live in a world where everything about God is being ridiculed. People are mocking God's people, but that is not the time to bail out. It is a time to stand your ground for God, no matter the challenge and no matter the ridicule or mockery. Understand that God already has a long-term plan for the deliverance of his people.
Further Reading:
Jeremiah 20:7-18
Daily Bible Reading:
Morning: Gen 23, 24
Evening: Matt. 7
Written by Dr. Mike Okonkwo; Is the Presiding Bishop of The Redeemed Evangelical Mission (TREM); a versatile man of God with over 30 years of dedicated service unto the Lord.
Flatimes' Notice Board: Until you are born again, God ever abiding presence will never be with you. You must be born again to enjoy continuous victory. Please say the displayed prayer below in faith: Lord Jesus, come into my life. I accept You as my Lord and Personal Saviour. I believe in my heart You died and rose from the dead to save me. Thank You Lord for saving me, in Jesus name Amen.
If you just prayed the prayer of salvation online please send your testimonies and prayer request to trem@trem.org, Phone: +234 1 773 8584