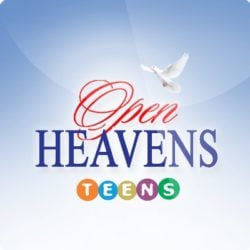 Topic: Under Authority [Open Heavens for Teens 20 April 2019]
Memorise: "Wherefore neither thought I myself worthy to come unto thee: but say in a word, and my servant shall be healed." – Luke 7:7
Read: Luke 7:1-10
1 Now when he had ended all his sayings in the audience of the people, he entered into Capernaum.
2 And a certain centurion's servant, who was dear unto him, was sick, and ready to die.
3 And when he heard of Jesus, he sent unto him the elders of the Jews, beseeching him that he would come and heal his servant.
4 And when they came to Jesus, they besought him instantly, saying, That he was worthy for whom he should do this:
5 For he loveth our nation, and he hath built us a synagogue.
6 Then Jesus went with them. And when he was now not far from the house, the centurion sent friends to him, saying unto him, Lord, trouble not thyself: for I am not worthy that thou shouldest enter under my roof:
7 Wherefore neither thought I myself worthy to come unto thee: but say in a word, and my servant shall be healed.
8 For I also am a man set under authority, having under me soldiers, and I say unto one, Go, and he goeth; and to another, Come, and he cometh; and to my servant, Do this, and he doeth it.
9 When Jesus heard these things, he marvelled at him, and turned him about, and said unto the people that followed him, I say unto you, I have not found so great faith, no, not in Israel.
10 And they that were sent, returning to the house, found the servant whole that had been sick.
Bible In One Year: 1 Samuel 30-31, Luke 17:20-37
MESSAGE:
One person who under stood authority and order is the Centurion in Luke 7. From the encounter he had with Jesus, it is glaring that what you know will determine the extent you can go(you can read that again). You can never grow above your knowledge. However, many people have knowledge, but they never apply it. The knowledge that is not applied is useless to the one that has it. To what extent have you applied your knowledge of God's word in your life? Seek knowledge and apply the knowledge.
Also, that link of authority between the Father and Jesus extends to us. That is, when you command demons, sicknesses and problems and they obey, it is not because of your power or anything, it is because of the authority that you have in Jesus. This is why you must do all you can to keep the link you have with God intact.
The authority you have in Him affords you everything you will ever need or want. To be under someone's authority means that you obey his every command. Are you under God's authority?
Action Point: It takes you being under God's authority to operate by His authority.
Also Read: Teen Open Heaven Daily Devotional by Pastor Adeboye
Hymn: 2
1 When we walk with the Lord in the light of His Word,
What a glory He sheds on our way!
While we do His good will,
He abides with us still,
And with all who will trust and obey.
Chorus:
Trust and obey, for there's no other way
To be happy in Jesus, but to trust and obey.
2. Not a shadow can rise, not a cloud in the skies,
But His smile quickly drives it away;
Not a doubt or a fear, not a sigh or a tear,
Can abide while we trust and obey.
2. Not a burden we bear, not a sorrow we share,
But our toil He doth richly repay;
Not a grief or a loss, not a frown or a cross,
But is blessed if we trust and obey.
3. But we never can prove the delights of His love
Until all on the altar we lay;
For the favor He shows, for the joy He bestows,
Are for them who will trust and obey.
4. Then in fellowship sweet we will sit at His feet,
Or we'll walk by His side in the way;
What He says we will do, where He sends we will go;
Never fear, only trust and obey.
Daily Devotional for Teen's guide was written by Pastor E.A. Adeboye, the General Overseer of the Redeemed Christian Church of God, one of the largest evangelical church in the world and also the President of Christ the Redeemer's Ministries.