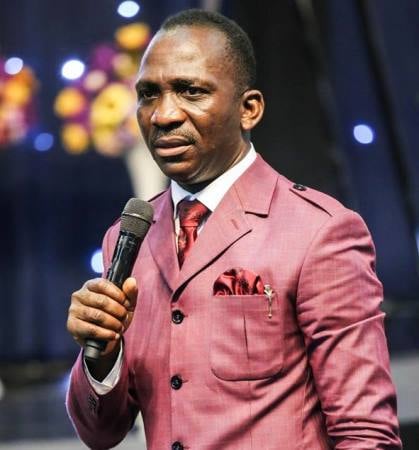 HEALING, DELIVERANCE AND BREAKTHROUGH CHRISTMAS SERVICE – 25TH DECEMBER 2018
ANCHOR SCRIPTURE(S): LUKE 2:8-16
MESSAGE TOPIC: UNDERSTANDING THE POWER OF CHRISTMAS
BY: DR. PAUL ENENCHE
SERVICE OBJECTIVES:
Understanding the power of Jesus' birth
Understanding what it takes to access that power
There are 2 significant events in the history of mankind where God manifested His power in very unusual ways
GOD MANIFESTED HIS POWER IN UNUSUAL WAYS IN THE FOLLOWING EVENTS:
The conception and birth of Jesus Christ
The death and resurrection of His Son
WHAT KIND OF POWER DID WE SEE IN THE CONCEPTION AND BIRTH OF JESUS CHRIST?
1. The power of supernatural conception
1a. It is the Divine human incarnation
It is the process of the Son of God becoming the Son of man
It is when the Divine became human and the celestial became terrestrial
Inside human flesh, the immeasurable God became captured
It was as if Mount Everest was swallowed up by a speck of dust!
You need an elasticity of mentality to comprehend the of complexity of Divinity
1b. It is the unnatural conception
It was a conception that did not follow the normal rules
1c. It is the Immaculate conception
Everyone was conceived in sin except the Son of God
Connection to Divinity is the doorway to unbelievable possibility
You cannot fully comprehend, calculate, understand, predict or prognosticate the life of a man connected to God
Stop hindering, limiting or localising your life
Never apologise for the unusual; if God chooses to do the incomprehensible, you owe no devil no explanation
2. The power of prophetic fulfilment (Isa. 7:14; Matt. 1:23; Micah 5:2; Luke 2:1-4)
The birth of Jesus came as a confirmation of the immutability, unchangeability and inflexibility of God's Word
2a. Prophecy fulfilled about the virgin birth (Isa. 7:14)
2b. Prophecy fulfilled about the place of birth (Micah 5:2; Luke 2:1-4)
When the time came for Mary to deliver, God moved on the Emperor to make a decree that will make
Mary to be found where the prophecy predicted
There is an invisible working in the visible realms of men
Every prophecy of God is history spoken in advance; every prophecy of God is history waiting to happen
God will always rearrange situations to line up with His declarations to His people
Beyond human visibility there is Divine activity for the fulfilment of human destiny
3. The power of supernatural delivery
Everything God speaks, He releases His Hand to perform
When the Mouth of God speaks a Word, the Hands of God move to work
4. The power of supernatural sustenance
This is the power of preservation
Jesus was born in a stable with the risk of all manner of infection but He grew up with no trace of sickness
Where you were born is not as important as how you end; how you began is not as important as how you finish
Jesus was born in a manger but He is the King of kings and Lord of lords
Obscurity most times is the hiding place for notoriety
If God is your Source, you won't have to beg Him to be your Sustainer
The One Who is your Source is also your Sustenance and Sustainer
If God calls you he keeps you; If He calls you He hides you and no devil can find whom God has hidden
5. The power of supernatural announcement (Luke 2:8-20; Matt. 2:1-3)
Those who are on the earth to fulfil God's purpose access God's publicity
When your assignment is to give Him fulfillment, He will give you announcement.
You don't need to struggle to make yourself known if you have a passion to make God known to your generation
God can announce your business if that business is Kingdom-oriented
Also Read: Celebrating Christmas (The Birth of Christ) By Pastor Paul Enenche
SECRETS OF THE POWER OF CHRISTMAS:
Being overwhelmed by the Holy Spirit (Luke 1:34-35; Eph. 5:18-19)
The Holy Spirit is the Companion of those who understand communion, fellowship and intimacy with God
Being overshadowed by the power and the purpose of God (Luke 1:34-35)
When you come to that point in life where your own agenda is packed aside and the plan and purpose
of God becomes your purpose, you will see power
The best place to be is in the centre of God's Will
PRAYERS
Father, thank You for Your Word to us today
Father, I come before You today connecting with the power of supernatural conception, the power of prophetic
fulfilment in your life, the power of supernatural delivery, sustenance and announcement in my life, in Jesus' Name!
Father, I come before You today. Overwhelm me by Your Spirit and overshadow me by the power of Your purpose. I surrender my will into Your Hands. Do with me Lord what You want to do. I am ready and available. Have Your Way Lord, in Jesus' Name.
MINISTRATION PRAYER:
In the Name of Jesus, every power of paralysis around my life, family and destiny, break now!
PROPHETIC DECLARATIONS:
I prophesy to everyone under the cover of this commission, you shall not be wasted like chicken!
Whatever negative cycle affecting those in your family is arrested! Whatever swallowed others, you shall escape
Whoever is in enemy captivity I declare the captors shall lose their sleep, peace and rest until that person is released!
Your case is different!
December 31st 2018 is not permitted to arrive until your expectations come to pass!
Every pit or prison where the devil kept you or your family, on this Christmas day, you are out! And every chain used to chain your life is broken now!
Every satanic deposit in your life, body and destiny, preventing your establishment in life, those deposits are returned back to hell
Every marital delay is over forever!
Everyone battling with the spirit of the dead, I declare that spirit is returned back to where it came from! You shall fulfil your days!
The death the devil wants for you is returned back to that devil!
Every area of your life where there is a pain, inflammation or degeneration, I declare that it is healed!
Everything that is negative that came here with you is not returning with you!
Your freedom is confirmed!
Today, Jesus Christ shall give you a Christmas gift
In the Name of Jesus Christ our resurrected Lord, everything not working in your system is commanded to work now!
In this season, you are going to see the possibilities of God like you have never seen before!
Jehovah God is about to move people, systems and institutions on your behalf until His Word in your life comes to pass!
The most impossible person shall be moved to make the Word of God come to pass in your life!
Every Word of God to you that seems to be delaying, they shall be fulfilled with accuracy!
I prophesy to you today, where you could not have announced yourself, God shall announce you!
You can READ other MESSAGES from same author by clicking HERE
Flatimes Notice Board: Until you are born again, God ever abiding presence will never be with you. You must be born again to enjoy continuous victory. Please say the displayed prayer below in faith:
Lord Jesus, come into my life. I accept You as my Lord and Personal Saviour. I believe in my heart You died and rose from the dead to save me. Thank You Lord for saving me, in Jesus name Amen.
If you just prayed the prayer of salvation online please send your testimonies and prayer request to contact@faithoyedepo.org, 07026385437 OR 08141320204.