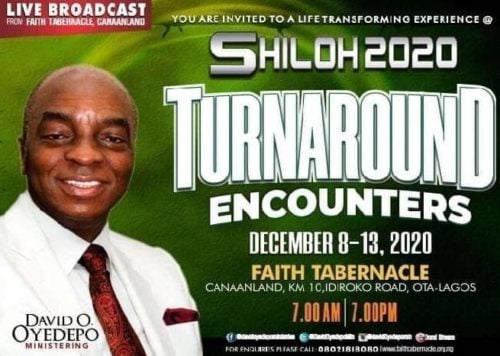 SHILOH 2020! Turnaround Encounters!
Click HERE for Previous MESSAGES by Bishop David Oyedepo
SHILOH the annual convocation of the Winners family is here at last.
Contrary to the information making rounds on social media on the change of timing for the Opening night, please note by this memo, that the event kicks off by 7pm(18:00GMT) tonight (Nigerian time).
Also note that the timing for other sessions such as Prayer Hour, Hour of Visitation, Specialized sessions remains as earlier communicated (5.30am, 7.00am and 1.00pm) respectively.
Please Click HERE to WATCH SHILOH 2020 LIVE
The Encounter Nights also remains 7.00pm daily (Nigerian Time) daily.
Please ignore any other information about this Prophetic event except as directed from the IHQ (Canaanland) or MHO in Goshen.
Finally, as may be applicable, each State / Nation is to observe security measures and COVID 19 protocols.
Please be guided by the above directives, while you may seek further clarification as the need arises.
Remain Blessed!