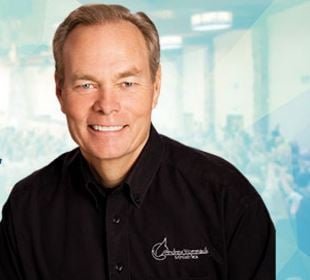 Andrew Wommack Devotional 20 November 2023 – Hide The Word In Your Heart
Click HERE for Previous Devotional
Topic: Hide The Word In Your Heart
Matthew 26:75 'And Peter remembered the word of Jesus, which said unto him, Before the cock crow, thou shalt deny me thrice. And he went out, and wept bitterly.'
There are several Greek words used for 'word.' The Greek word used here is RHEMA and it literally means, 'a spoken word; an utterance, a saying, but specifically a spoken word appropriate for the situation.' It's not the Bible lying on your coffee table that makes the enemy flee, but the Word of God hidden in your heart, activated by the power of the Holy Spirit, and spoken in the appropriate situation. It's similar to what Jesus says in John 6:63, that 'the words that I speak unto you, they are spirit and they are life.'
The words that we speak from the written Word of God are empowered by the Holy Spirit. The Word by itself doesn't make us free. It is the Word we know and speak that will deliver us (Jn. 8:32).
Why is the Word so effective? Because it is the WORD of God. It has authority, because it is indeed the WORD of God. God's Word supersedes all authority of the church, of reason, of intellect, and even of Satan. That's why it is so effective.
In Luke, chapter four, when Jesus was tempted of the devil for forty days, it was the Word of God that Jesus used to defeat the enemy at His temptation.
Jesus constantly met His temptation by quoting from God's Word as He repeatedly stated the phrase, 'It is written.' Likewise, the Christian soldier must avail himself of God's Word by placing it in his heart so that the Holy Spirit may bring it forth at the appropriate time to accomplish a complete and total victory.
This message was written by The Association of Related Ministries International (ARMI) is an extension of Andrew Wommack Ministries (AWM). ARMI is a unique partnership committed to providing resources to help like-minded ministers succeed in a spirit of excellence and to draw from the experience and expertise of both the AWM and Charis Bible College staff. (www.awmi.net).
Flatimes Notice Board: Until you are born again, God ever abiding presence will never be with you. You must be born again to enjoy continuous victory. Please say the displayed prayer below in faith:
Lord Jesus, come into my life. I accept You as my Lord and Personal Saviour. I believe in my heart You died and rose from the dead to save me. Thank You Lord for saving me, in Jesus name Amen.
If you just prayed the prayer of salvation online please send your testimonies and prayer request to info@awmi.net, 1-719-635-1111.