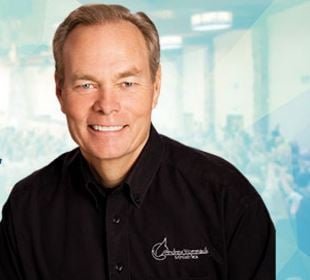 Andrew Wommack Devotional 26 July 2022 – The Father's Love
Click HERE for Previous Devotional
Topic: The Father's Love
Luke 15:20 'And he arose, and came to his father. But when he was yet a great way off, his father saw him, and had compassion, and ran, and fell on his neck, and kissed him.'
Luke 15:20
For this boy's father to have seen him 'a great way off' would imply that the Father had been eagerly awaiting his son's return. Certainly, in the spiritual application of this parable, our Heavenly Father is longing to cleanse and receive the sinner, if he will just repent and come to Him for forgiveness.
Jesus was using this parable to rebuke the Pharisees for their harsh, self-righteous, unforgiving attitude towards sinners. The older brother in this parable was symbolic of the Pharisees. Like this brother, the Pharisees had not lived an outward life of rebellion and they thought that others who didn't measure up to their standards were surely hated by God. But, 'God so loved the world' and 'Christ Jesus came into the world to save sinners.'
Just as this older brother was self-centered and jealous, the Pharisees were not operating in the love of God towards sinners because they were so in love with themselves. They resented Jesus giving the sinners what the Pharisees thought they deserved.
If relationship with his father had been the real desire of the older brother, he would have rejoiced to see his father's joy at the return of his son. The repentant prodigal son had learned the vanity of things and he had come home to a relationship with his father that neither he nor his older brother had known before.
The scribes and Pharisees, like the older brother, had gotten caught up in serving self through their religious actions. The publicans and sinners who repented were supplying their Father with what He really wanted – relationship.
Relationship with the Father was always available to the scribes and Pharisees, but they chose the temporal praise of men rather than relationship with God.
This message was written by The Association of Related Ministries International (ARMI) is an extension of Andrew Wommack Ministries (AWM). ARMI is a unique partnership committed to providing resources to help like-minded ministers succeed in a spirit of excellence and to draw from the experience and expertise of both the AWM and Charis Bible College staff. (www.awmi.net).
Flatimes Notice Board: Until you are born again, God ever abiding presence will never be with you. You must be born again to enjoy continuous victory. Please say the displayed prayer below in faith:
Lord Jesus, come into my life. I accept You as my Lord and Personal Saviour. I believe in my heart You died and rose from the dead to save me. Thank You Lord for saving me, in Jesus name Amen.
If you just prayed the prayer of salvation online please send your testimonies and prayer request to info@awmi.net, 1-719-635-1111.