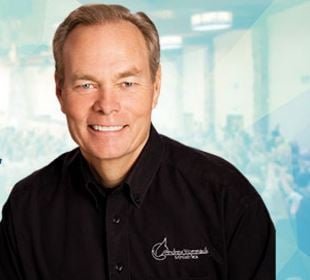 Andrew Wommack Devotional 8 December 2022 – Abraham's Bosom
Click HERE for Previous Devotional
Topic: Abraham's Bosom
Luke 23:43 'And Jesus said unto him, Verily I say unto thee, To day shalt thou be with me in paradise.'
The paradise that Jesus spoke of must have been the same place that Jesus called 'Abraham's bosom,' when He told the story of the rich man and Lazarus. Jesus descended into the lower parts of the earth after His death, and John 20:17 shows that it was some time after His resurrection before Jesus ascended back to His Father. Therefore, this paradise was 'Abraham's bosom' located in 'sheol' in the lower parts of the earth.
The phrase 'led captivity captive' from Ephesians 4:8, refers to Jesus liberating the Old Testament saints. When Old Testament saints died, they went to a place in the center of the earth which is called 'sheol' in Hebrew. It is the Hebrew word 'sheol' that is translated 'hell' in Psalm 16:10, which prophesies Jesus saying, 'For thou wilt not leave my soul in hell; neither wilt thou suffer thine Holy One to see corruption' (Acts 2:27-30).
The ungodly dead also went to 'sheol' but the teaching of Jesus in Luke 16:19-31 shows that there was a great gulf fixed between the two, and those in torment (hell) envied those who were enjoying the blessings of the Lord in the part of 'sheol' that was called Abraham's bosom or Paradise.
Even though these Old Testament saints were blessed, they were not able to enter into the presence of the Lord because the atonement of Christ had not been completed. So, in that sense, they were captives. When Jesus died, He descended into 'sheol' and took the captives captive. He took them to heaven, into the very presence of God and vacated that part of 'sheol.' Now, all that's left in 'sheol' is hell. In the New Testament, the Greek word that is used to refer to this area is 'hades' and it is only applied to the place of torment.
This message was written by The Association of Related Ministries International (ARMI) is an extension of Andrew Wommack Ministries (AWM). ARMI is a unique partnership committed to providing resources to help like-minded ministers succeed in a spirit of excellence and to draw from the experience and expertise of both the AWM and Charis Bible College staff. (www.awmi.net).
Flatimes Notice Board: Until you are born again, God ever abiding presence will never be with you. You must be born again to enjoy continuous victory. Please say the displayed prayer below in faith:
Lord Jesus, come into my life. I accept You as my Lord and Personal Saviour. I believe in my heart You died and rose from the dead to save me. Thank You Lord for saving me, in Jesus name Amen.
If you just prayed the prayer of salvation online please send your testimonies and prayer request to info@awmi.net, 1-719-635-1111.