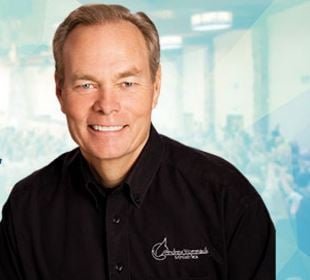 Andrew Wommack Devotional 5 January 2023 – The Power To Serve
Click HERE for Previous Devotional
Topic: The Power To Serve
Luke 1:41, "And it came to pass, that, when Elisabeth heard the salutation of Mary, the babe leaped in her womb; and Elisabeth was filled with the Holy Ghost."
Text: Luke 1:39-56
Upon hearing the greeting of Mary, John the Baptist leaped for joy inside his mother's womb (v. 44). A six month old fetus experienced unbridled emotion, voluntarily leaped for joy and was actually filled with the Holy Spirit.
It is no coincidence that the man Jesus called the greatest of all Old Testament prophets, was the only man in the Bible to be filled with the Holy Ghost from his mother's womb (Lk. 7:28).
The anointing of God that breaks every yoke is simply the manifest presence and working of the Holy Spirit (Isa. 10:27). The Holy Spirit is the part of the Godhead that empowers us for service.
God is not asking us to live for Him. He is asking us to let Him live through us (Gal. 2:20). The Christian life is not a changed life but an exchanged life. This can only be accomplished when the Holy Spirit is leading and empowering us.
Even Jesus didn't begin His ministry until he was anointed with the Holy Spirit and He was the sinless Son of God. How much more do we need to depend on the power of the Holy Spirit in our daily lives. Today, be conscious of the presence of the Holy Spirit in you and expect Him to supernaturally guide and empower you.
If you ask, you will receive (Lk. 11:9-13).
This message was written by The Association of Related Ministries International (ARMI) is an extension of Andrew Wommack Ministries (AWM). ARMI is a unique partnership committed to providing resources to help like-minded ministers succeed in a spirit of excellence and to draw from the experience and expertise of both the AWM and Charis Bible College staff. (www.awmi.net).
Flatimes Notice Board: Until you are born again, God ever abiding presence will never be with you. You must be born again to enjoy continuous victory. Please say the displayed prayer below in faith:
Lord Jesus, come into my life. I accept You as my Lord and Personal Saviour. I believe in my heart You died and rose from the dead to save me. Thank You Lord for saving me, in Jesus name Amen.
If you just prayed the prayer of salvation online please send your testimonies and prayer request to info@awmi.net, 1-719-635-1111.