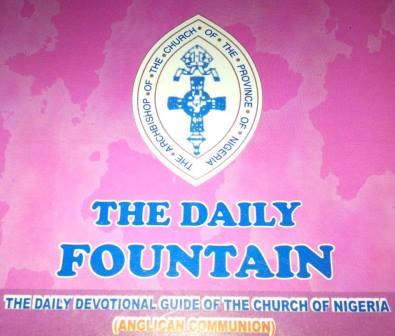 The Daily Fountain Daily Devotional of the Church Of Nigeria (Anglican Communion) 19 October 2020 – Pen Down The Experience
Click HERE to Read Previous MESSAGE
Topic: Pen Down The Experience
Read: Luke 1:1-4 (NKJV)
Inasmuch as many have taken in hand to set in order a narrative of those things which have been fulfilled among us,
just as those who from the beginning were eyewitnesses and ministers of the word delivered them to us,
it seemed good to me also, having had perfect understanding of all things from the very first, to write to you an orderly account, most excellent Theophilus,
that you may know the certainty of those things in which you were instructed.
THE MESSAGE:
Luke as a Physician and a disciple of Paul (Colossians. 4:14) never met Jesus while He was on earth. He however, didn't allow his 'disadvantage' of not seeing Jesus physically to stop him from contributing to the spreading of the gospel. It is widely accepted that he was the author of the Acts of Apostles.
In our text today, we saw him write to Theophilus. He acknowledged the fact that some other people had written and also that he was not an eyewitness. Yet he felt persuaded to contribute to the concretizing of the things that Theophilus had been taught about Christ and His work on earth.
God takes us through diverse experiences in our Christian journey; He does so not only for our consumption, but also for other people who are running the race with us or will come after us. He expects us to put these experiences down on paper so that other people will be edified through it. Short pen, they say, is more powerful than a long memory. Resolve today to pen down the experiences God exposes you to in order to benefit others just like Luke did.
PRAYER: God grant me the grace and discipline to document Your works so that my generation will be blessed through it.