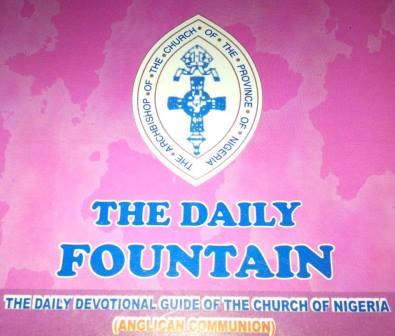 The Daily Fountain Devotional of the Church Of Nigeria (Anglican Communion) 22 March 2023 – A Tool For Fulfilling Negative Prophecies
Click HERE to Read Previous MESSAGES
TOPIC: A Tool For Fulfilling Negative Prophecies
READ: Deuteronomy 2:27-37 (NKJV)
'Let me pass through your land; I will keep strictly to the road, and I will turn neither to the right nor to the left.
'You shall sell me food for money, that I may eat, and give me water for money, that I may drink; only let me pass through on foot,
'just as the descendants of Esau who dwell in Seir and the Moabites who dwell in Ar did for me, until I cross the Jordan to the land which the LORD our God is giving us.'
"But Sihon king of Heshbon would not let us pass through, for the LORD your God hardened his spirit and made his heart obstinate, that He might deliver him into your hand, as [it is] this day.
"And the LORD said to me, 'See, I have begun to give Sihon and his land over to you. Begin to possess [it,] that you may inherit his land.'
"Then Sihon and all his people came out against us to fight at Jahaz.
"And the LORD our God delivered him over to us; so we defeated him, his sons, and all his people.
"We took all his cities at that time, and we utterly destroyed the men, women, and little ones of every city; we left none remaining.
"We took only the livestock as plunder for ourselves, with the spoil of the cities which we took.
"From Aroer, which [is] on the bank of the River Arnon, and [from] the city that [is] in the ravine, as far as Gilead, there was not one city too strong for us; the LORD our God delivered all to us.
"Only you did not go near the land of the people of Ammon — anywhere along the River Jabbok, or to the cities of the mountains, or wherever the LORD our God had forbidden us.
THE MESSAGE:
Today, we see Moses the leader of the Jews trying to negotiate with Sihon, King of Heshbon, to allow them pass peacefully through his land to the Promised Land. However, King Sihon refused to allow them pass through his territory and also confronted them with war. His adamant behaviour lead to loss of his land and the killing of his people whom he ought to have protected. God's plan of giving his land to the Israelites became fulfilled.
As Christians, our hearts must be open to 'godly' negotiations. Rigidity must not be applied in all cases. Wisdom is the principal thing, and this we can apply when the Spirit of God dwells within us. Perhaps, Such wisdom would have averted the war and spared the people of Heshbon. Before we make up our minds on any issue, we must inquire of God at every given point on what to do. Do you have an unsettled issue with your wife, husband, brother, sister, friend? Avoid confrontation and quietly discuss the problem with a view to finding a solution. Don't create the environment or be an instrument to fulfil negative prophecies in the bible!
PRAYER: Lord, please give me a discerning spirit to be able to judge situations as You would. Amen.