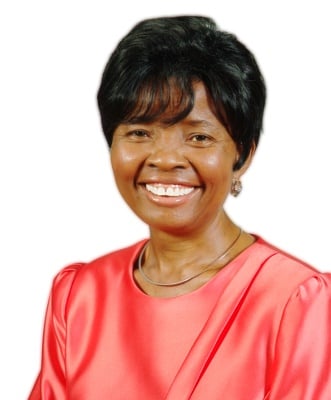 Effective Family Altar (4) By Pastor Faith Oyedepo
Click HERE for Previous MESSAGES by Pastor Faith Oyedepo
Topic: Effective Family Altar (4)
Dear Reader,
It is wonderful to be able to share God's Word with you once more in this column. Today, if you look around, you will find out that peace is a scarce commodity in the world. Many are desperately searching for it, but Jesus said in John 14:27: Peace I leave with you, my peace I give unto you: not as the world giveth, give I unto you. Let not your heart be troubled, neither let it be afraid. Since the month began, I have been teaching on prayer as a key to meeting your needs; thereby establishing lasting peace in your home. Here, I will conclude the teaching by giving you more Benefits of Prayer. I am sure that you will be blessed.

What are the Benefits of Prayer?
Deliverance
Prayer is God's prescription for deliverance from every affliction of the wicked (James 5:13). When one person in the home is down, the other(s) can stand in the gap and enforce his or her deliverance by praying and declaring God's Word over him or her. I remember a time when my health was being attacked. I had prayed, declared the Word and did all I knew to do, but my strength seemed to be failing the more. Then my husband received an insight from God's Word, prayed over me and that ended the trial! I was healed and delivered.
James 5:15 says: And the prayer of faith shall save the sick, and the Lord shall raise him up; and if he have committed sins, they shall be forgiven him. Prayer can revive any situation!
In Genesis 25:21, the Bible says: And Isaac entreated the LORD for his wife, because she was barren: and the LORD was entreated of him, and Rebekah his wife conceived.
Remember, as a child of God, barrenness is not your portion, so if the devil is trying to afflict you with it, cry unto God for your deliverance. With the agreement of your spouse and unwavering faith in God, your prayers will surely be answered. Don't watch afflictions reduce your home to a place of woes, because until God hears your voice in prayers, your deliverance is not in view.
The children of Israel were in bondage for 400 years but in Exodus 3:7-8 the Bible says: And the LORD said, I have surely seen the affliction of my people which are in Egypt, and have heard their cry by reason of their taskmasters; for I know their sorrows; And I am come down to deliver them out of the hand of the Egyptians, and to bring them up out of that land unto a good land and a large, unto a land flowing with milk and honey; unto the place of the Canaanites, and the Hittites, and the Amorites, and the Perizzites, and the Hivites, and the Jebusites.
This is your hour of release from that long standing affliction in your home! However, you should call on God as stated in Jeremiah 33:3 and be sure of His deliverance.
Divine Presence
In a home where the members do pray for one another, there won't be room for hatred, malice or unforgiveness. Rather, there will be a free flow of love, which makes the atmosphere conducive for the presence of God. When God is present, a hedge of fire surrounds your home, which keeps the devil and his cohorts away (Job1:8-9). Fullness of joy and everlasting pleasures or peace is what you experience when you make room for God's presence to dominate your home (Psalm 11:16).

Freedom from Cares
Philippians 4:6 says: Be careful for nothing; but in every thing by prayer and supplication with thanksgiving let your requests be made known unto God. Cares and worries are some of the major root causes of lack of peace and God's prescription against it is also prayer. If you accommodate cares and worries, they will choke the peace of God out of your home. That is why 1 Peter 5:7 says: Casting all your care upon him; for he careth for you. As you go to God in prayers, He lifts the load of cares off your shoulders, so that you can enjoy your peace while He takes charge of the situation.
In Matthew 6:27 Jesus said: Which of you by taking thought can add one cubit unto his stature? Don't take prayer for granted, it is an all-purpose drug for the cares of life. Some people, especially women, would rather cry than pray. The time you spend crying can be put to more productive use if spent in prayers, because by so doing, you hand over your battles to God.
Exodus 14:14 says: The LORD shall fight for you, and ye shall hold your peace. Don't let the pressures of life overcome you. Hold your peace and let the Lord fight for you! Whatever issue is threatening to tear your home apart, hand it over to God in prayers, He can handle it (Matthew 19:26).
With this key in your hand, no enemy will be able to disturb the peace of your home any more. You will begin to handle your family matters effortlessly henceforth, as you receive divine instructions through prayers. God has given you peace; go forth and enjoy it in Jesus' Name!
However, if you are not born again, you are not entitled to the peaceful married life that God has reserved for His children. God's grace of salvation is extended to you right now. If you desire to be born again, say this simple prayer in faith: Dear Lord Jesus Christ, I come to You today. I am a sinner. Forgive me my sins and cleanse me with Your Blood. I accept You as my Lord and Saviour. Make me a child of God today. Thank You for delivering me from sin and satan to serve the living God and thank You for accepting me into Your Kingdom.
Congratulations! If you prayed this simple prayer of faith with me, you are now born again and a child of God. He loves you and will never leave you. Read your Bible daily, obey God's Word and seek Christian fellowship (John 14:21).
With this, you are guaranteed all-round rest and peace in Jesus' Name! Call or write to share your testimonies with me through contact@faithoyedepo.org, 07026385437 OR 08141320204.
For more insight, these books authored by me are available at the Dominion Bookstores in all Living Faith Churches and other leading Christian bookstores: Marriage Covenant, Making Marriage Work, Building A Successful Home and Success in Marriage (Co-Authored).


Pastor Faith Oyedepo is the wife of Bishop David Oyedepo, the founder of the Living Faith Church Worldwide a.k.a. Winners' Chapel, and Senior Pastor of Faith Tabernacle, Canaanland, Ota, Nigeria.