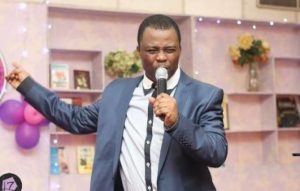 TOPIC: Locate Your Field (Mountain of Fire and Miracle Ministries Thursday, 22 March 2018)
FIRE SCRIPTURE: Romans 15:14-20
MEMORY VERSE:
"And he said unto them, Go ye into all the world, and preach the gospel to every creature." – Mark 16:15
The MESSAGE:
There are many unsaved souls on the street and some dark dungeons of evil practices. Some of them have once tasted the light before they were arrested by the devil. Until we go out to locate them where they are being kept in the dens of drug, alcohol, prostitution, idolatry, smoking, we may not be able to discover what such souls are supposed to be to humanity and to God. Those outside the church that are waiting to become foundations and pillars for God are more than the largest congregation that we have.
A pastor closed the service very early one Sunday, so that the congregation could go out for soul winning. He reasoned that anyone who was at home at that time must be someone who was not committed to any church. With the intention of evangelising the 'unchurched' and probably getting them to become members of the church, the members set out with tracts. While distributing the tract to passersby, one man refused it, saying: "Go to the interiors. Look around you, there are so many churches. Go to the places where there are no churches."
Building upon another man's foundation is not as big a work as starting your own foundation, otherwise Apostle Paul wouldn't have said, "I strived to preach the gospel, not where Christ was named…" While there is nothing wrong in reaching out to the "unchurched" around us, we should make a greater effort to get into areas where Jesus has never been heard. Instead of focusing on strategies to convert a committed member from his Bible-believng church to another, let's direct our resources to places where a church has never been planted. The time left is short. Let's go out of our comfort zones to bring as many people as possible into God's Kingdom. And of course, our rewards will be beyond our imaginations. Let us as believers reach out to those forgotten places of the world to let them know the goodness of the Lord that we have been enjoying. Such people would be happy to know that God has not forgotten them. Let us plant the flag of Christ in every dark place of the world and beam the light of Christ on such places.
MOTIVATIONAL QUOTE:
There are two sets of people God does not joke with: those who preach the gospel and those who sponsor the preaching of the gospel.
PROPHETIC WORD:
Receive the boldness you need to go anywhere to preach the gospel of Christ.
PRAYER POINTS:
MORNING
1. I overcome every fear that hinders me from getting out of my comfort zone to preach the gospel, in the name of Jesus.
2. O Lord, bless me with the wisdom to use in winning souls for You, in Jesus' name.
3. My life shall attract others to Jesus Christ, in the name of Jesus.
EVENING
4. Any shameful situation that makes it hard for me to preach the gospel. I overcome you by the blood of Jesus, in the name of Jesus.
5. Any shameful situation in my life that makes it hard for me to preach the gospel, I loose myself from your grip, in Jesus' name.
6. Any shameful situation that makes it hard for me to preach the gospel, I convert you to glory, in Jesus' name.
7. My Father, give me the right words to speak to win sinners to You, in the name of Jesus.
If you missed yesterday devotional, please click to read MFM Mountain Top Life Daily Devotional HERE 
MOUNTAIN TOP LIFE is a daily devotional by Dr. D.K Olukoya (General Overseer, Mountain of Fire and Miracle Ministries, Worldwide)
Flatimes' Notice Board: Please do not prolong your salvation if you have not repented. Many are going home daily and tomorrow maybe too late…There is still hope, JESUS LOVES YOU!