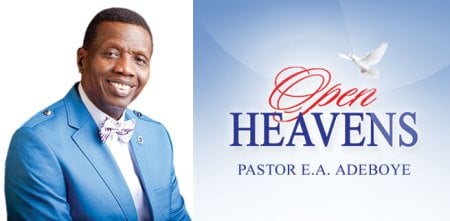 Open Heaven 11 March 2021 Thursday Daily Devotional By Pastor E. A. Adeboye – Prayers For Leaders
Click HERE for Previous Open Heaven Devotional
OPEN HEAVEN 11 MARCH 2021 TOPIC: Prayers For Leaders
MEMORISE: When the righteous are in authority, the people rejoice: but when the wicked beareth rule, the people mourn. – Proverbs 29:2
READ: 1 Timothy 2:1-4 (KJV)
1 I exhort therefore, that, first of all, supplications, prayers, intercessions, and giving of thanks, be made for all men;
2 For kings, and for all that are in authority; that we may lead a quiet and peaceable life in all godliness and honesty.
3 For this is good and acceptable in the sight of God our Saviour;
4 Who will have all men to be saved, and to come unto the knowledge of the truth.
BIBLE IN ONE YEAR: Acts 17-19
Open Heaven 11 March 2021 MESSAGE:
PRAYERS:
Father, thank You for all leaders in every sphere – whether it is education, health, technology, manufacturing, politics or anywhere whatsoever, please give them wisdom and good counsellors so that they can lead aright in Jesus' name.

Also See: OPEN HEAVEN 12 MARCH 2021 – EXAMINE YOURSELF

Father, anything that may have been destroyed in any sphere of life, please give the leaders in that sector the grace to rebuild in Jesus' name.

Father, please help our leaders to battle whatever challenges are hindering their good success in Jesus' name.

Lord, I pray for all those who are leading me directly in Church, in my office, in my neighbourhood, in my family, everyone who is in a leadership position over me, let them not lead me astray, in the name of Jesus.

Lord, put Your fear in the hearts of all our leaders. Teach them to honour You and let them follow after peace diligently in Jesus' name.

Lord, let righteousness be exalted at every leadership level in my nation, industry, Church and all over the world in Jesus' name.

Father, take away selfishness from the heart of all our leaders. Give them compassion for the people they lead.

Father, please expose all the wolves amongst our leaders. Father, for the sake of Your people, expose evil doers amongst our leaders and remove them all in Jesus' name.

Father, give our leaders the grace to lead us into abundance in Jesus' name.

Father, arise and uproot every leader who has purposed in his heart to hurt Your people. Father, don't spare them in Jesus' name.

Father, please unite all our leaders; take away the division and confusion in Jesus' name.

Your personal prayer point for Your leaders.
Open Heaven 11 March 2021 THANKSGIVING:
Father thank You for your protection over all our leaders, and your grace that allow them to lead.
Open Heaven 11 March 2021 HYMN 11: I Need Thee Eve'ry Hour
1. I need Thee every hour, most gracious Lord;
No tender voice like Thine can peace afford.
Refrain:
I need Thee, oh, I need Thee;
Every hour I need Thee;
Oh, bless me now, my Savior,
I come to Thee.
2. I need Thee every hour, stay Thou nearby;
Temptations lose their pow'r when Thou art nigh.
3. I need Thee every hour, in joy or pain;
Come quickly and abide, or life is vain.
4. I need Thee every hour; teach me Thy will;
And Thy rich promises in me fulfill.
5. I need Thee every hour, most Holy One;
Oh, make me Thine indeed, Thou blessed Son.
Click HERE to read RCCG Fasting and Prayer Points 2021
Open Heavens 2021 Daily Devotional guide was written by Pastor E.A. Adeboye, the General Overseer of the Redeemed Christian Church of God, one of the largest evangelical church in the world and also the President of Christ the Redeemer's Ministries. The Open Heavens devotional application is available across all mobile platforms and operating systems: iOS, Android, Blackberry, Nokia, Windows Mobile and PC.
Flatimes Notice Board: Until you are born again, God ever abiding presence will never be with you. You must be born again to enjoy continuous victory. Please say the displayed prayer below in faith:
Lord Jesus, come into my life. I accept You as my Lord and Personal Saviour. I believe in my heart You died and rose from the dead to save me. Thank You Lord for saving me, in Jesus name Amen.
If you just prayed the prayer of salvation online please send your testimonies and prayer request to info@rccg.org, +234-1-8447340, +234-0-7098213112.