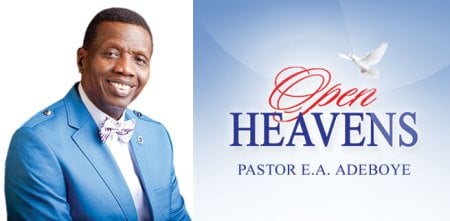 Open Heaven 14 December 2020 Monday Daily Devotional By Pastor E. A. Adeboye – Wait On The Lord
Click HERE for Previous Open Heaven Devotional
Topic: Wait On The Lord (Open Heaven 14 December 2020)
Memorise: I waited patiently for the LORD; and he inclined unto me, and heard my cry. – Psalm 40:1
Read: 1 Samuel 30:1-19 (KJV)
1 And it came to pass, when David and his men were come to Ziklag on the third day, that the Amalekites had invaded the south, and Ziklag, and smitten Ziklag, and burned it with fire;
2 And had taken the women captives, that were therein: they slew not any, either great or small, but carried them away, and went on their way.
3 So David and his men came to the city, and, behold, it was burned with fire; and their wives, and their sons, and their daughters, were taken captives.
4 Then David and the people that were with him lifted up their voice and wept, until they had no more power to weep.
5 And David's two wives were taken captives, Ahinoam the Jezreelitess, and Abigail the wife of Nabal the Carmelite.
6 And David was greatly distressed; for the people spake of stoning him, because the soul of all the people was grieved, every man for his sons and for his daughters: but David encouraged himself in the LORD his God.
7 And David said to Abiathar the priest, Ahimelech's son, I pray thee, bring me hither the ephod. And Abiathar brought thither the ephod to David.
8 And David enquired at the LORD, saying, Shall I pursue after this troop? shall I overtake them? And he answered him, Pursue: for thou shalt surely overtake them, and without fail recover all.
9 So David went, he and the six hundred men that were with him, and came to the brook Besor, where those that were left behind stayed.
10 But David pursued, he and four hundred men: for two hundred abode behind, which were so faint that they could not go over the brook Besor.
11 And they found an Egyptian in the field, and brought him to David, and gave him bread, and he did eat; and they made him drink water;
12 And they gave him a piece of a cake of figs, and two clusters of raisins: and when he had eaten, his spirit came again to him: for he had eaten no bread, nor drunk any water, three days and three nights.
13 And David said unto him, To whom belongest thou? and whence art thou? And he said, I am a young man of Egypt, servant to an Amalekite; and my master left me, because three days agone I fell sick.
14 We made an invasion upon the south of the Cherethites, and upon the coast which belongeth to Judah, and upon the south of Caleb; and we burned Ziklag with fire.
15 And David said to him, Canst thou bring me down to this company? And he said, Swear unto me by God, that thou wilt neither kill me, nor deliver me into the hands of my master, and I will bring thee down to this company.
16 And when he had brought him down, behold, they were spread abroad upon all the earth, eating and drinking, and dancing, because of all the great spoil that they had taken out of the land of the Philistines, and out of the land of Judah.
17 And David smote them from the twilight even unto the evening of the next day: and there escaped not a man of them, save four hundred young men, which rode upon camels, and fled.
18 And David recovered all that the Amalekites had carried away: and David rescued his two wives.
19 And there was nothing lacking to them, neither small nor great, neither sons nor daughters, neither spoil, nor any thing that they had taken to them: David recovered all.
Bible In One Year: Acts 27-28
MESSAGE:
Every believer should understand and practice waiting on the Lord. In our Bible reading for today, we see that during David's travails and exile, his base was raided while he was away with his men. All their property, wives and children were raided without mercy. One arrival, they were overwhelmed with grief so much so that they wept. Any other person would have automatically pursued the perpetrators of such an act immediately, but as we had noted in an earlier study, David sought the face of God for direction and waited on Him even though that did not seem like the smartest thing to do at the time.
Also See: Open Heaven 15 December 2020 – Do You Really Love God?
The smartest and bravest move that would have been expected of valiant soldiers like David and his men would have been to ensure that they did not waste any further time in going after the enemy.
Ordinarily, the more time they wasted, the slimmer their chances of ever catching up and recovering their loved ones and belongings. David however, decide to wait patiently upon God and receive His instructions, approval and blessing before making any move.
The Bible records that upon getting God's word on the matter, they swung into action. Verse 19 on the same chapter reads:
"And there was nothing lacking to them, neither small nor great, neither sons nor daughters, neither spoil, nor any thing that they had taken to them: David recovered all."
Your recovery in life, ministry, career and business might just be dependent on you waiting on the Lord for instruction before taking decisions. Waiting on the Lord includes prayer, fasting and usually, patience which is where most believers miss it. God is the all-in-all who knows the end from the beginning. There is no risk in waiting on the Lord.
As David found strength to recover all by waiting on the Lord, this season may you also find strength for exploits in the mighty name of Jesus.
As David pursued after his enemies and recovered all they had stolen, so will you recover every lost opportunity and blessing, in the mighty name of Jesus.
Put God first always and wait patiently upon Him in every area of your life. He will never disappoint you.
Action Point:
Wait on the Lord. You will surely testify, in the mighty name of Jesus.
Hymn 18: My Faith Looks Up To Thee
My faith looks up to Thee,
Thou Lamb of Calvary,
Savior divine!
Now hear me while I pray,
Take all my guilt away,
Oh, let me from this day
Be wholly Thine!
May Thy rich grace impart
Strength to my fainting heart,
My zeal inspire!
As Thou hast died for me,
Oh, may my love to Thee
Pure, warm, and changeless be,
A living fire!
While life's dark maze I tread,
And griefs around me spread,
Be Thou my guide;
Bid darkness turn to day,
Wipe sorrow's tears away,
Nor let me ever stray
From Thee aside.
When ends life's transient dream,
When death's cold, sullen stream
Shall o'er me roll;
Blest Savior, then in love,
Fear and distrust remove;
Oh, bear me safe above,
A ransomed soul!
Open Heavens Daily Devotional guide was written by Pastor E.A. Adeboye, the General Overseer of the Redeemed Christian Church of God, one of the largest evangelical church in the world and also the President of Christ the Redeemer's Ministries. The Open Heavens devotional application is available across all mobile platforms and operating systems: iOS, Android, Blackberry, Nokia, Windows Mobile and PC.
Flatimes Notice Board: Until you are born again, God ever abiding presence will never be with you. You must be born again to enjoy continuous victory. Please say the displayed prayer below in faith:
Lord Jesus, come into my life. I accept You as my Lord and Personal Saviour. I believe in my heart You died and rose from the dead to save me. Thank You Lord for saving me, in Jesus name Amen.
If you just prayed the prayer of salvation online please send your testimonies and prayer request to info@rccg.org, +234-1-8447340, +234-0-7098213112.