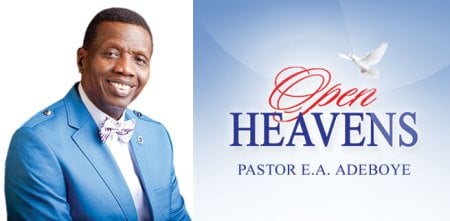 Open Heaven 20 January 2020 Monday Daily Devotional By Pastor E. A. Adeboye – Children of God are Peacemakers I
Click HERE for Previous Open Heaven Devotional
Topic: Children of God are Peacemakers I (Open Heaven 20 January 2020)
Memorise: "Blessed are the peacemakers: for they shall be called the children of God." – Matthew 5:9
Read: Matthew 5:39-48 (KJV)
39 But I say unto you, That ye resist not evil: but whosoever shall smite thee on thy right cheek, turn to him the other also.
40 And if any man will sue thee at the law, and take away thy coat, let him have thy cloke also.
41 And whosoever shall compel thee to go a mile, go with him twain.
42 Give to him that asketh thee, and from him that would borrow of thee turn not thou away.
43 Ye have heard that it hath been said, Thou shalt love thy neighbour, and hate thine enemy.
44 But I say unto you, Love your enemies, bless them that curse you, do good to them that hate you, and pray for them which despitefully use you, and persecute you;
45That ye may be the children of your Father which is in heaven: for he maketh his sun to rise on the evil and on the good, and sendeth rain on the just and on the unjust.
46 For if ye love them which love you, what reward have ye? do not even the publicans the same?
47 And if ye salute your brethren only, what do ye more than others? do not even the publicans so?
48 Be ye therefore perfect, even as your Father which is in heaven is perfect.
Bible in One Year: Genesis 25-26
Open Heaven 20 January 2020 Monday MESSAGE:
A peacemaker is a person who pursues peace at all times. When the fellow is offended, his response to the offender is to ensure that peace reigns. Sometimes, they take all the blame and suffer some consequences, but they are happy at the end of the day because all they are after is peace. Also, when they see other people in a quarrel, they intervene to ensure that they make peace with each other. God loves these people so much; Jesus specifically said that they will be called the children of God. Of course, they will be called the children of God because Jesus Christ is the Prince of Peace.
Also Read: Open Heaven 21 January 2020 – Children of God are Peacemakers II
Now, if the peacemaker is a child of God, then whose child is the troublemaker? When you always choose quarrels over peace, who do you resemble? A troublemaker may not know it, but he is not a child of God as he does not exhibit the character of God rather those of the devil. If whenever you see two people quarrelling, you begin to say things that would fuel the anger of one or the other and cause the quarrel to become more heated, you are a troublemaker. If you have a reputation of always retaliating against anyone who offends you, you are a troublemaker. If you are one who likes to cause quarrels amongst your colleagues, friends or family members, then you are a trouble maker; you need to repent and change your ways.
Many times, we want to make peace, but we don't want to be seen as a weakling. The reverse is however the truth. It takes strength to control one's ego, anger and work towards peace. Hence, it is a strong but wise person that will seek peace.
Whenever you're tempted to fight, remember that unbelievers don't read the Bible, hence it is we the Christians that model Christ to them. If you claim that the Prince of Peace lives in you and you are the quarrelsome type, many unbelievers will not want that your "Prince of Peace" to live in them. Secondly, making peace with others is one of the prerequisites to making it to heaven on the last day. Hebrews 12:14 says:
"Follow peace with all men, and holiness, without which no man shall see the Lord:"
Open Heaven 20 January 2020 Monday Key Point:
Always choose peace.
Hymn 27: Take My Life, And Let It Be
1 Take my life and let it be
Consecrated, Lord, to Thee.
Take my moments and my days,
Let them flow in endless praise.
2 Take my hands and let them move
At the impulse of Thy love.
Take my feet and let them be
Swift and beautiful for Thee.
3 Take my voice and let me sing,
Always, only for my King.
Take my lips and let them be
Filled with messages from Thee.
4 Take my silver and my gold,
Not a mite would I withhold.
Take my intellect and use
Every pow'r as Thou shalt choose.
5 Take my will and make it Thine,
It shall be no longer mine.
Take my heart, it is Thine own,
It shall be Thy royal throne.
6 Take my love, my Lord, I pour
At Thy feet its treasure store.
Take myself and I will be
Ever, only, all for Thee.
Open Heavens Daily Devotional guide was written by Pastor E.A. Adeboye, the General Overseer of the Redeemed Christian Church of God, one of the largest evangelical church in the world and also the President of Christ the Redeemer's Ministries. The Open Heavens devotional application is available across all mobile platforms and operating systems: iOS, Android, Blackberry, Nokia, Windows Mobile and PC.
RCCG FIFTY (5O) DAYS FASTING & PRAYER GUIDE FOR: MONDAY 20TH OF JANUARY, 2020
DAY 10: PRAYERS FOR PEACE AND GOOD GOVERNANCE IN OUR NATIONS, TEXT: Prov 29:16. According to the prophecy, we are witnesses of the reality of Nations rising up against nations, troubles and killings in almost all the Continents of the world. In the midst of these turbulences, we need to pray for those in authority to walk in the fear God and do His will.
Bless the Lord O my soul and all that is within me. Bless His Holy name. Psa 103: 1
Thank God for a new day and for the salvation of your soul
We confess and repent of all the sins of (Put your country) and leaders. 2 Chro 7:14
Father, we pray for your peace to reign in all our Nations, all over the world, in Jesus name.
Father, let those who cause conflicts all over the world repent and seeks peace, in Jesus name. 1 Tim 2:2.
Father please raise peace loving people and nations to work against conflicts, aggressions in the world , in Jesus name.
Father; clothe our leaders in all nations with your fear and wisdom in Jesus' name. Prov 15:33, 9:10
Father; deliver all our leaders from every form of deafness and blindness in Jesus' name. Matt 15:14
Father; please uproot every plant you have not planted in (Put your country) in Jesus' name. Matt 15:13
Father, introduce yourself to our leaders as the one that rules in the affairs of men and let them bow before you as Nebuchadnezzar did in Jesus' name. Dan 4:36-37
Father, deliver our leaders from committing abominable acts so that (Put your country) will be established in righteousness. Prov 16:12
We declare that Jesus is Lord over (Put your country) in Jesus' name.
Father, raise Godly leaders like David, Samuel, Joseph and Daniel for us in (Put your country) to manage our resources and revive our economy in Jesus' name.
Flatimes Notice Board: Until you are born again, God ever abiding presence will never be with you. You must be born again to enjoy continuous victory. Please say the displayed prayer below in faith:
Lord Jesus, come into my life. I accept You as my Lord and Personal Saviour. I believe in my heart You died and rose from the dead to save me. Thank You Lord for saving me, in Jesus name Amen.
If you just prayed the prayer of salvation online please send your testimonies and prayer request to info@rccg.org, +234-1-8447340, +234-0-7098213112.