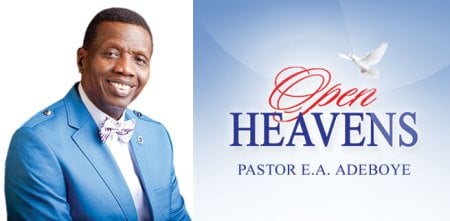 Open Heaven 28 November 2020 Saturday Daily Devotional By Pastor E. A. Adeboye – From Milk To Bones
Click HERE for Previous Open Heaven Devotional
Topic: From Milk To Bones (Open Heaven 28 November 2020)
Memorise: For when for the time ye ought to be teachers, ye have need that one teach you again which be the first principles of the oracles of God; and are become such as have need of milk, and not of strong meat. – Hebrews 5:12
Read: Hebrews 5:12-14 (KJV)
12 For when for the time ye ought to be teachers, ye have need that one teach you again which be the first principles of the oracles of God; and are become such as have need of milk, and not of strong meat.
13 For every one that useth milk is unskilful in the word of righteousness: for he is a babe.
14 But strong meat belongeth to them that are of full age, even those who by reason of use have their senses exercised to discern both good and evil.
Bible In One Year: 1 Corinthians 1-4
Open Heaven 28 November 2020 Saturday MESSAGE:
The Christians life is in stages. A baby Christian first feeds on milk – the soft word of God. This is when he/she has just become born again and is being introduced to the ways of God. After this new believer has been taking milk for a while, it is expected that he/she begins to crush bones. That is when a believer can take in deeper things of the word of God without being confused. At this stage of crushing bones, he/she can also begin to feed some new converts with milk.
Also See: Open Heaven 29 November 2020 – Be A Doer Of The Word
There is time to be a regular member of your church and there is a time to join the workforce. There is also a time at which you must also start raising disciples for God. In your Christian walk, you should never remain on the same level, you must keep growing.
Since you got born again, how many souls have you won for Christ? If you have been born again for some years now and you have only been getting fed, not feeding others and helping them grow spiritually, then you need a revival. Jesus' mandate for all Christians is clearly stated in Matthew 28:19:
"Go ye therefore, and teach all nations, baptizing them in the name of the Father, and of the Son, and of the Holy Ghost:"
God's desire is that every disciple grows to the level of raising other disciples for Him. Paul told Timothy:
"And the things that thou hast heard of me among many witnesses, the same commit thou to faithful men, who shall be able to teach others also." – 2 Timothy 2:2
If you have been a Christian for long and you have not started raising disciples for God, what are you waiting for? Jesus has given us the mandate and He expects us to be faithful to it. Don't disappoint Him.
Open Heaven 28 November 2020 Saturday Reflection:
Are you growing in the things of the Kingdom? How many souls have you won for Christ since you became born again?
Open Heaven 28 November 2020 Saturday Hymn 5: Deeper, Deeper In The Love Of Jesus
Deeper, deeper in the love of Jesus
Daily let me go;
Higher, higher in the school of wisdom,
More of grace to know.
Refrain:
Oh, deeper yet, I pray,
And higher every day,
And wiser, blessed Lord,
In Thy precious, holy Word.
Deeper, deeper, blessed Holy Spirit,
Take me deeper still,
Till my life is wholly lost in Jesus,
And His perfect will.
Deeper, deeper! though it cost hard trials,
Deeper let me go!
Rooted in the holy love of Jesus,
Let me fruitful grow.
Deeper, higher, every day in Jesus,
Till all conflict past,
Finds me conqu'ror, and in His own image
Perfected at last.
Deeper, deeper in the faith of Jesus,
Holy faith and true;
In His pow'r and soul exulting wisdom
Let me peace pursue.
THE REDEEMED CHRISTIAN CHURCH OF GOD DIRECTORATE OF PRAYER THIRTY (30) DAYS PRAYER GUIDE TOWARDS THE REALISATION OF A NEW NIGERIA
DAY 26: SATURDAY 28TH NOVEMBER, 2020.
TOPIC: GATES AND WALLS.
BIBLE TEXT: JOS.6:1
INTRODUCTION:
Wall is a structure put in place to prevent access. It demarcates a place and make it invisible for any one on the other side. While gate is the point of entry into a place which can be opened to allow access and can be closed to prevent access, it can serve both positive and negative purposes. Jos. 6:1.
PRAYER POINTS:
Father, we thank you for your mercy over our land. Lam. 3:22.
Father, we thank you for your loving kindness over our nation
Father, we thank you for your good plan for us. Jer,29:11.
Father, arise and collapse every wall of oppression in this nation
Father, let every wall of disunity in our land collapse in Jesus name. 1. Corin.3:4.
Father, arise and destroy every wall of poverty in our land. 2. Kings 6:25.
Father, arise and destroy every wall promoting corruption in our land in Jesus name. Gen. 31:7
Father, let every wall of stagnation fall flat in Jesus name. Exo. 14:15.
Father, let the wall of hatred fall flat now in Jesus name. Gen. 27:41
Father, let the power that fell the wall of Jericho destroy every evil wall of tribalism and division in our land in Jesus name. Jos. 6:20.
Father, arise and destroy every evil wall preventing the spread of the gospel in nations of the earth
Father, arise and destroy every ancient gate hindering the progress of Nigeria. Psalms 24:7-10
13 Father, arise and destroy every prison gate of the enemies against this nation. Acts 12:5-7.
Father, arise and destroy every evil gate preventing us from possessing our possessions in our land. Obadiah 17.
Father, arise and destroy every keeper of evil gate against our progress in this land
Father, by your power, be a wall of fire round us. Zach. 2:5.
Father, be a wall of defence roundabout this nation. Psalms 7:10.
Father, destroy every denominational wall hindering your purpose for the church. 1 Corinthians 3:4.
Father, you are the Lord of host, build a wall of fire to shield your Church against external aggressors in our land. Heb. 12:29.
Father, open the floodgates of revival to all nations of the world. Acts 4:29-33. 10:3-5.
Open Heavens Daily Devotional guide was written by Pastor E.A. Adeboye, the General Overseer of the Redeemed Christian Church of God, one of the largest evangelical church in the world and also the President of Christ the Redeemer's Ministries. The Open Heavens devotional application is available across all mobile platforms and operating systems: iOS, Android, Blackberry, Nokia, Windows Mobile and PC.
Flatimes Notice Board: Until you are born again, God ever abiding presence will never be with you. You must be born again to enjoy continuous victory. Please say the displayed prayer below in faith:
Lord Jesus, come into my life. I accept You as my Lord and Personal Saviour. I believe in my heart You died and rose from the dead to save me. Thank You Lord for saving me, in Jesus name Amen.
If you just prayed the prayer of salvation online please send your testimonies and prayer request to info@rccg.org, +234-1-8447340, +234-0-7098213112.