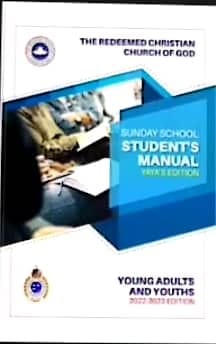 RCCG YAYA Sunday School Students Manual 8 January 2023 Lesson 19 – Life Skills: Career Building
Click HERE for Previous RCCG Sunday School Teacher Manual
TOPIC – Life Skills: Career Building (RCCG Sunday School Manual For Young Adults And Youths (YAYA)
MEMORY VERSE: "And the man Jeroboam was a mighty man of valour: and Solomon seeing the young man that he was industrious, he made him ruler over all the charge of the house of Joseph." – 1 Kings 11:28 (NKJV)
BIBLE PASSAGE: Exodus 31:1-11 (KJV) (Scroll down for RCCG Sunday School 8 January 2023 HYMN)
1 And the Lord spake unto Moses, saying,
2 See, I have called by name Bezaleel the son of Uri, the son of Hur, of the tribe of Judah:
3 And I have filled him with the spirit of God, in wisdom, and in understanding, and in knowledge, and in all manner of workmanship,
4 To devise cunning works, to work in gold, and in silver, and in brass,
5 And in cutting of stones, to set them, and in carving of timber, to work in all manner of workmanship.
6 And I, behold, I have given with him Aholiab, the son of Ahisamach, of the tribe of Dan: and in the hearts of all that are wise hearted I have put wisdom, that they may make all that I have commanded thee;
7 The tabernacle of the congregation, and the ark of the testimony, and the mercy seat that is thereupon, and all the furniture of the tabernacle,
8 And the table and his furniture, and the pure candlestick with all his furniture, and the altar of incense,
9 And the altar of burnt offering with all his furniture, and the laver and his foot,
10 And the cloths of service, and the holy garments for Aaron the priest, and the garments of his sons, to minister in the priest's office,
11 And the anointing oil, and sweet incense for the holy place: according to all that I have commanded thee shall they do.
Also Read:
– RCCG Sunday School Teacher Manual 8 January 2023: Honour God
– RCCG Sunday School Student Manual 8 January 2023 – Honour God
– RCCG YAYA Sunday School Teacher Manual 8 January 2023 – Life Skills: Career Building
– RCCG House Fellowship Leader Manual 8 January 2023: Know Your Enemy
– Open Heaven 8 January 2023 – Joy Unspeakable
INTRODUCTION: Building your career to an enviable height is what you should set your mind to. Having a successful career will bring honour to your maker who deposited treasures in you (2Corinthians 4:7) and a lot of benefits and profitable opportunities would accrue to you and others. As a believer, you are expected to take the lead and stand out in endeavor (Deuteronomy 28:13; Matthew 5:14). You must influence your world positively; one of such ways is by showing forth the talents embedded in you as you stand out in your chosen career. In this lesson, we shall examine career paths and career building.
LESSON OUTLINE:
CAREER PATH
HOW TO BUILD A GOOD CAREER
1. CAREER PATH
A career paths is a series of jobs that uses similar skills either in one or more professions, especially in a planned way, going from one job to a more important one which leads to your short- and long-term career goals. To have a successful career paths, it is expedient that you know yourself well: recognise your strengths (1Samuel 17:32) and weaknesses, area of interest, passion, etc. (Genesis 46:33-34). You must acknowledge the talents (Matthew 25:15) divinely endowed to you by God and ask Him for guidance in your career route. Information is power as a result; you need to be adequately informed on what your carrier track entails and the future it holds. It is advisable to meet people in that field of study (Daniel 2:17-18) and know what it is like to be in that profession (Acts 22:3). You should also open yourself up to the prospects of your career track to know if is viable (Acts 16:14a) or not sustainable interest in relation to your goals matter before you choose their career
2. HOW TO BUILD A GOOD CAREER
Having wisely chosen a career route, you need to know how to build your career and be comfortable in it. To be successful, you must figure out strategies that successful professional believers use and follow in their steps (2Thessalonians 3:7a). A quality resume showcases what you are good at; create a professional and neat resume to meet opportunities (1Samuel 17:34-36). You also need to assume responsibility for your actions and not blame anyone for your predicaments (Galatians 6:5). You need to brand your names and services (Galatians 1:1) constantly to establish yourselves in the marketplace and improve on what you do in order to stand out of the crowd (Ezra 7:6) this can be done by starting a blog, creating a professional social media profile, or simply by providing excellent services. Successful people network and build profitable life-lasting relationships (Romans 16:3-16). Always ask God for help (John 15:5).
CONCLUSION: Career building is not a day's job rather it is a process that requires working hard and smart coupled with a lot of determination, with God as your ally.
QUESTIONS:
What are the factors to consider in achieving success in a career path?
Mention five things to do to build a good career.
SUNDAY SCHOOL HYMN
O Sunday School, on the Lord's day,
O how I love Thee well,
I am happy, it makes me glad
To rejoice at Thy birth.
O Sunday School, on the Lord's day,
Thy friend friendship suits me well,
Both young and will sing Thy song,
We long for Sunday School.
O Sunday School, on the Lord's day,
Christ was Thy first teacher,
The Holy Spirit, great teacher,
Does manifest in thee.
O Sunday School, on the Lord's day,
This testimony is sure,
That God, the Father Almighty,
Poured His blessing on Thee
O Sunday School, on the Lord's day,
Though the sun be so bright,
Or if the clouds be black with rain,
I'll be in Sunday School.
O Sunday School, on the Lord's day
I rejoice to see Thee,
Will thou pass over me today?
Without my being blest?