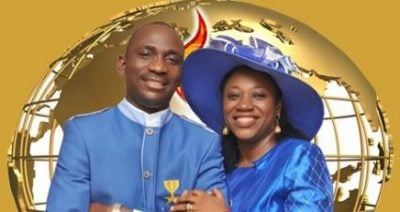 Topic: The Seven-Way Lifestyle Test [Seeds of Destiny 3 April 2019 Devotional]
The state of our spirituality determines our audience with God; our spiritual health determines our material welfare.
SCRIPTURE: And herein do I exercise myself, to have always a conscience void of offence toward God, and toward men. Acts 24:16
THOUGHT FOR THE DAY: The state of our spirituality determines our audience with God; our spiritual health determines our material welfare.
Many times, we wonder as children of God if God is pleased with our lifestyles and actions. Many times, we wonder whether we are doing well spiritually. This is because the state of our spirituality determines our audience with God; Our spiritual health determines our material welfare.
Now, how can we know if we are living our lives in accordance with the purpose of God? How can we know if our spiritual life is intact? Let me give you a seven-way test:
i. What is your motive?
What is the driving force in the things you do, where you go, who you relate with, the way you dress, etc? Your motive determines whether you are pleasing God or you are being driven by consensus rather than by conviction. Is your life bringing glory to God?
ii. How does God feel about you?
Your life is either giving God pleasure or pain; excitement or embarrassment.
iii. What is the impact of your action on others?
Is your life impacting others positively or negatively? What is the implication of your existence on the lives of others around you?
iv. What identity does your life portray?
What is people's overwhelming perception about you? What people perceive about you can affect your placement with God.
v. Can you boldly witness for Christ in your current situation?
Whatever lifestyle cannot make you represent Jesus either in the public or in private is not worth it. Your lifestyle can affect your confidence level in witnessing for Christ.
vi. Can you defend your actions on the judgment day when you appear before God?
Are your actions in this life defendable before God in eternity?
vi. Will anyone follow your example and be saved?
If anyone follows your example and ends up well in life, it confirms how well you are living your life.
Beloved, if you can assess yourself objectively and come up with positive conclusions from this seven-way test, then, you are on the right path with God.
REMEMBER THIS: The state of our lives determines our audience with God; our spirituality determines our material welfare.
ASSIGNMENTS:
Go through the study of today again
Endeavour to carry out periodic assessment of your life to see if you are on track with God.
PRAYER: O Lord, I ask for Your grace not to lose sight of eternity. Let me live to give You joy all the days of my life, Lord in Jesus' Name.
FOR FURTHER UNDERSTANDING, GET THIS MESSAGE: THE SEVEN-WAY LIFESTYLE TEST
QUOTE: When you spend time with God, the things in your life that can take you to hell become exposed, and you have the opportunity to repent of them. Culled from WHO ARE YOU? by Dr Paul Enenche
DAILY READING: Deuteronomy 23:1 to 25:19, Luke 10:13 to 37, Psalm 75:1 to 10, Proverbs 12:12 to 14
AMAZING FACT: Mount Kilimanjaro in Tanzania is the highest mountain in Africa. It is 19,336 ft above sea level.
TODAY IN HISTORY: 03/04/2010 – Apple Inc. released the first generation iPad, a tablet computer.
Also Read: Click HERE to read Other Inspirational Messages by Pastor Paul Enenche "https://flatimes.com/category/seeds-of-destiny/
Today's devotional was written by Pastor Paul Enenche of the Dunamis International Gospel Centre (DIGC), headquartered at Abuja, Nigeria, with Pastor Paul and Becky Enenche, as the Senior Pastors. It is a power-packed arena where God's Presence, Principles and Power are at work for the salvation, healing and restoration of human destinies and dignities
Flatimes Notice Board: Until you are born again, God ever abiding presence will never be with you. You must be born again to enjoy continuous victory. Please say the displayed prayer below in faith:
Lord Jesus, come into my life. I accept You as my Lord and Personal Saviour. I believe in my heart You died and rose from the dead to save me. Thank You Lord for saving me, in Jesus name Amen.
If you just prayed the prayer of salvation online please send your testimonies and prayer request to contact@faithoyedepo.org, 07026385437 OR 08141320204.