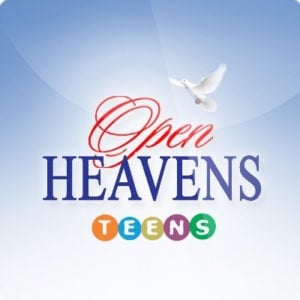 Topic: Best Friend Indeed [Teens' Open Heavens 1st, April 2018]
Memorise: Greater love hath no man than this, that a man lay down his life for His friends. – John 15:13
Read: John 15:13-14 (KJV)
13 Greater love hath no man than this, that a man lay down his life for his friends.
14 Ye are my friends, if ye do whatsoever I command you.
Bible In One Year: Joshua 6-7, Luke 8:1-22
MESSAGE:
All around the world, the death and resurrection of Jesus Christ is being celebrated in this season. Jesus' genuine love for us gives great significance to the season. He is truly a friend indeed.
As teenagers, you are quick to call one person or the other your best friend, but I have been on earth long enough to know that no one deserves the title 'best friend' except the Lord Jesus Christ.
Who can leave his palace or mighty riches to come into a dirty slum just to reach out to you? Most people will rather tell you to come and meet them where they are, that is even if they want to be associated with someone from the slum. Which son of a president can let his father's subject beat him to a pulp and still plead for mercy from his father on behalf of his evil perpetrators? Who can die just so that you may live? Who can watch, protect and stay loyal to you even when you are unfaithful and disobedient to Him? Who else can love you like Jesus Christ does, who else can be a better friend than Jesus Christ?
Key Point: If you still commit sin once in a while, ask God to help you to live holy. Return the gesture of friendship that Jesus shows you daily
If you missed yesterday devotional, please click to read "Teen Open Heavens Daily Devotional by Pastor Adeboye''
Hymn 10:
1. What a friend we have in Jesus,
All our sins and griefs to bear!
What a privilege to carry
Ev'rything to God in prayer!
O what peace we often forfeit,
O what needless pain we bear,
All because we do not carry
Ev'rything to God in prayer!
2. Have we trials and temptations?
Is there trouble anywhere?
We should never be discouraged;
Take it to the Lord in prayer!
Can we find a Friend so faithful
Who will all our sorrows share?
Jesus knows our ev'ry weakness,
Take it to the Lord in prayer!
3. Are we weak and heavy laden,
Cumbered with a load of care?
Precious Saviour, still our refuge,
Take it to the Lord in prayer.
Do thy friends despise, forsake thee?
Take it to the Lord in prayer!
In His arms He'll take and shield You;
You wilt find a solace there.
Daily Devotional for Teen's guide was written by Pastor E.A. Adeboye, the General Overseer of the Redeemed Christian Church of God, one of the largest evangelical church in the world and also the President of Christ the Redeemer's Ministries.