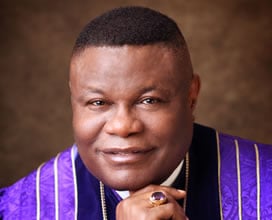 Topic: He Has All Power! [TREM's Devotional Sunday April 1, 2018]
"And when they saw Him, they worshipped Him: but some doubted. And Jesus came and spake to them, saying, All power is given unto me in heaven and in earth". (Matthew 28:17-18 KJV)
Halleluiah, our Lord and Saviour is risen! The tomb is empty, and He is alive forevermore! Beloved on this resurrection morning, I want to draw your attention to the importance of Christ's resurrection from the grave. Unfortunately for many, in the midst of celebrating this all-important event by feasting with family and friends, we sometimes forget what God perfected for us when He raised Jesus from the grave. Especially with the commercialization drive that has taken over the world, nothing is spared, and many times even believers get caught up in these activities, thereby failing to take stock of what the resurrection means to us.
The resurrection of Jesus from the dead is the differentiating factor for Christianity over every other religion in the world. As important as Christ's crucifixion is, it would not have meant much if He remained in the grave. I am certain that even Christianity as a faith would have died a natural death if Christ had not resurrected. That is why the devil fought as much as he could to prevent the resurrection. But thank God, He pulled a joker on the enemy! That is why Paul said that if the princes of this world known, they would not have crucified the Lord of glory (1 Cor. 2:9).
Child of God, Jesus rose from the grave completely victorious! He defeated the devil and spoiled him of all the power he stole from Adam. He then declared boldly that all power in heaven and earth has been given to Him. Do you know what? You are in Him, and also have all power! That is the beauty of Christ's resurrection. You have been quickened with Him, and are seated far above principalities and powers. Therefore, celebrate His resurrection with an understanding of what He has done for you. You have all power!
Further Reading: Matt. 28:1-20; Eph. 1:17-23; Eph. 2:4-7
Daily Bible Reading: Morning- Judges 13-15; Evening- Luke 27: 49
"If you missed yesterday devotional click to read "TREM's Daily Devotional by Dr. Mike Okonkwo''
Written by Dr. Mike Okonkwo; Is the Presiding Bishop of The Redeemed Evangelical Mission (TREM); a versatile man of God with over 30 years of dedicated service unto the Lord.