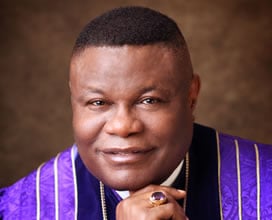 Topic: Learn To See The Potential In People [TREM 19th July 2018 Daily Devotional]
"And Barnabas determined to take with them John, whose surname was Mark. But Paul thought not good to take him with them, who departed from them from Pamphylia, and went not with them to the work" Act 15:37-38
John, when he saw the challenges of ministry, changed his mind about his call into ministry. He said I didn't know this is how it is (Acts 13:13). He thought it's about people calling him daddy! He thought it is about dressing in native attire and nice suits. He ran back to Jerusalem to tell them, "I'm not interested anymore. This one I have done is okay. Is it by force? He called me but I'm not called again."
Now, what happened is that when John Mark got back home, he realized he was just being immature. He realized that indeed there was a call on his life. So, he decided; look I will go back to ministry. At times fear comes before faith. He was afraid that was why he ran away. But when he got back home, he discovered that the call would not allow him to rest. So, he decided to return to ministry. Now on coming back, Barnabas said let's take him along but Paul said "No; not this one. No way, I don't trust him." Paul forgot that it was grace that kept him. Paul reasoned that he will abandon them when the trip becomes fierce No, not this one! We can't take him." Barnabas said let's take him.
Barnabas saw beyond muscles and bones. Barnabas saw potential. Paul said no and left. He took Silas while Barnabas took John Mark with a knowing that there's still something inside him. Isn't he like Jesus? Remember that Barnabas also took Saul (later Paul) because he saw potential in him. I challenge you today to look beyond the mistake, see the potential and help somebody along.
Further reading: Acts 15:37-41, 2 Timothy 4:11, Psalm 139:13-18
Daily Bible Reading: Morning- Psalms 23-25; Evening- Acts 21:18-40
Also Read: TREM Daily Devotional by Dr. Mike Okonkwo
Written by Dr. Mike Okonkwo; Is the Presiding Bishop of The Redeemed Evangelical Mission (TREM); a versatile man of God with over 30 years of dedicated service unto the Lord.