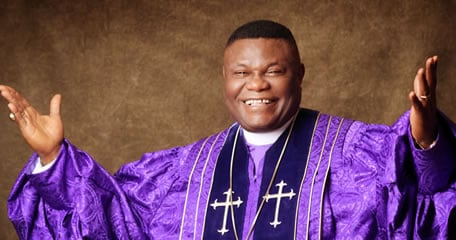 TREM Devotional 17 October 2021 Daily Devotional By Bishop Mike Okonkwo – Be Well Directed To Fulfil Purpose
Click HERE for Previous MESSAGES by Bishop Mike Okonkwo
TOPIC: Be Well Directed To Fulfil Purpose (TREM Devotional 17 October 2021)
"Lo, children are an heritage of the LORD: and the fruit of the womb is his reward. As arrows are in the hand of a mighty man; so are children of the youth." Psalm 127:3-4 KJV
As arrows are in the hands of a mighty man, so are children of the youth. Do you know an arrow cannot shoot itself? The arrow has to be shot by somebody. No matter how good the arrow is, until it is shot by somebody, it cannot hit the target. The owner of the arrow is the one that sharpens his arrow and then directs it in the direction he truly wants it to be targeted.
Children as arrows should willingly submit themselves to parents, so they can be prepared as mighty instruments that hit targets. There must be a willing submission. No matter how talented a child is, no matter how much God has invested in the child and no matter the plans and purpose for that child, if he is not well directed, the child may end up not getting to his or her destination. That places a responsibility on children to submit to parents so that they may be adequately directed.
Children are prone to a lot of things. In this day and hour, there are distractions here and there- technology and all kinds of peer pressure. If care is not taken and you choose to go without guidance, you may end up being a disappointment in life; not because God has not planned something great for your life, but because you did not submit to the mighty hand that is supposed to shoot you.
Take a cue from Jesus: Despite the level of understanding that He displayed that made doctors and religious leaders to be astonished, the scripture says he went back home and was obedient to His parents. Consequently, "Jesus increased in wisdom and stature, and in favour with God and man" (Luke 2:52 KJV). Decide today to submit to your parents under the guidance of the Lord and you will fulfill purpose. You will not miss your way.
Further Reading:
Psalm 127:1-6, Proverbs 17:6, 2 Timothy 3: 15-17
Daily Bible Reading:
Morning – Isaiah 50-52
Evening – 1 Thessalonians 5
Written by Dr. Mike Okonkwo; Is the Presiding Bishop of The Redeemed Evangelical Mission (TREM); a versatile man of God with over 30 years of dedicated service unto the Lord.
Flatimes' Notice Board: Until you are born again, God ever abiding presence will never be with you. You must be born again to enjoy continuous victory. Please say the displayed prayer below in faith:
Lord Jesus, come into my life. I accept You as my Lord and Personal Saviour. I believe in my heart You died and rose from the dead to save me. Thank You Lord for saving me, in Jesus name Amen.
If you just prayed the prayer of salvation online please send your testimonies and prayer request to trem@trem.org, Phone: +234 1 773 8584