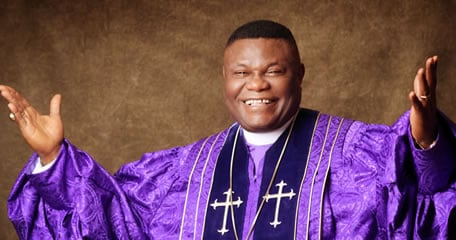 Topic: Think Global [TREM Devotional 27 June 2020]
Click HERE for Previous MESSAGES by Bishop Mike Okonkwo
"Ask of me, and I shall give thee the heathen for thine inheritance, and the uttermost parts of the earth for thy possession." – Psalm 2:8 (KJV)
You know that the world is a global village now. How are you taking advantage of the globalisation of the world? The world has become smaller. What that means is that there is no hiding place for anyone. Globalisation means that what we do here in Nigeria and the decisions that the Nigerian government takes can affect the world. One day a man by the name Osama bin Laden operating from Afghanistan took the whole world by storm and bombed the World Trade Centre in New York. That is what we know as 9/11 today. That event changed the entire world. Before then, if anyone told you that one man can do that to America, you would say it is impossible. But, one man came and bombed America.
Americans used to believe that they are the whole world but that concept has changed. One man decided to change the entire course of world history. Today, if you go to any airport you must pass through serious screening. It was caused by one man. The world has changed. We now know that the decisions you make in Nigeria can affect every person in the world.
Information about you can be accessed through the Internet. You can now eat the food of any country anywhere. Today, we are eating Chinese food in Nigeria and to some of us, it is a delicacy.
But as a Nigerian and as an African, have you sat down to think of how you can package our local food also and take them to other parts of the world? There are Nigerians and Africans all over the world.
Child of God, you must begin to think globally. If you are a dress designer you are not just designing for people in your location. You must think about the world. If you are a musician and you want to write a song, you must think about the world. If you are a pastor, messages are being streamed online at very little cost, so you must think globally when preparing your messages.
Further Reading: Psalm 2:1-12
Daily Bible Reading: Morning- Job 8-10; Evening- Acts 8:26-40
Written by Dr. Mike Okonkwo; Is the Presiding Bishop of The Redeemed Evangelical Mission (TREM); a versatile man of God with over 30 years of dedicated service unto the Lord.
Flatimes' Notice Board: Until you are born again, God ever abiding presence will never be with you. You must be born again to enjoy continuous victory. Please say the displayed prayer below in faith:
Lord Jesus, come into my life. I accept You as my Lord and Personal Saviour. I believe in my heart You died and rose from the dead to save me. Thank You Lord for saving me, in Jesus name Amen.
If you just prayed the prayer of salvation online please send your testimonies and prayer request to trem@trem.org, Phone: +234 1 773 8584