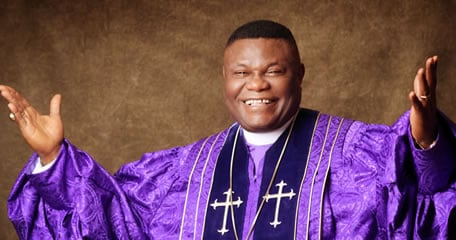 Wisdom For The Day Devotional 31 March 2022 By Bishop Mike Okonkwo – The Mercy Of God Will Cover You
Click HERE for Previous MESSAGES by Bishop Mike Okonkwo
TOPIC: The Mercy Of God Will Cover You (TREM Devotional 31 March 2022)
"And the eyes of them both were opened, and they knew that they were naked; and they sewed fig leaves together, and made themselves aprons." Genesis 3:7 (KJV)
Before Adam was created, God had already provided everything for his good. He blessed man and gave them dominion and commanded them to be fruitful, multiply, replenish the earth, subdue it and have dominion over it. Then the devil entered and deceived Adam and Eve. The devil lied to them and they fell for his lies.
When God came as usual into the garden of Eden for fellowship with Adam, he was nowhere to be found. Notice that God and Adam had previously enjoyed themselves. But this time around, they ran and hid themselves from God.
"And they heard the voice of the LORD God walking in the garden in the cool of the day: and Adam and his wife hid themselves from the presence of the LORD God amongst the trees of the garden." Genesis 3:8 (KJV).
They hid themselves.! "And the Lord God called unto Adam, and said unto him, Where art thou". In other words, I am looking for you. I am hungry for your fellowship. I desire you to come around, and let's enjoy ourselves. Jump on my laps. Enjoy yourself in my presence. Adam replied: "…I heard thy voice in the garden, and I was afraid, because I was naked; and I hid myself." (Genesis 3:10 KJV)
Just like Adam and Eve, you will be surprised how many people are hiding from God. Running away because they see Him as a terror, looking for them to kill. Waiting for you to just slip a little bit and you are dead. Now look at what God did. Adam and Eve messed up! They blew it! They messed up His agenda. Surely, they deserved to be thrown into the gallows. But Mercy reached out to them! Mercy covered them. "Unto Adam also and to his wife did the LORD God make coats of skins, and clothed them." (Genesis 3:21 KJV).
No matter your challenge, no matter your condition, no matter what you are faced with, the Mercy of God will reach out to you.
Further reading:
Genesis 3:1-21
Daily Bible Reading:
Morning – Judges 11-12,
Evening – Luke 6:1-26
DAILY CONFESSIONS MARCH 27TH– APRIL 2ND:
My God enlarges the steps under me so that my feet will not slip I have pursued mine enemies and overtaken them. I refused to turn till they are all consumed. The Lord will hear me in the day of trouble. The God of Jacob will defend me. He will send me help from His Sanctuary and strengthen me from Zion. He will remember all my offerings. (Psalm 18:36-37, Psalm 20:1-3)
There is no lack, for my God supplies all of my need according to His riches in glory by Christ Jesus The Lord has pleasure in the prosperity of His servant and Abraham's blessings are mine. Some trust in chariots and horses but I will remember the name of the Lord God. They are brought down and fallen but I am risen and stand upright. (Philippians 4:19, Psalms 35:27; Galatians 3:14, Psalm 20:7-8)
Every day and in every way I am getting better: spiritually, physically, financially, mentally, morally, and in all my endeavours.
I am called for a purpose. I will fulfill this purpose and I will arrive at God's ordained destiny for my life. Nothing will cut me short. I will make a formidable impact in my world for the Kingdom.
IT IS MY WEEK OF ACCELERATION!
Written by Dr. Mike Okonkwo; Is the Presiding Bishop of The Redeemed Evangelical Mission (TREM); a versatile man of God with over 30 years of dedicated service unto the Lord.
Flatimes' Notice Board: Until you are born again, God ever abiding presence will never be with you. You must be born again to enjoy continuous victory. Please say the displayed prayer below in faith: Lord Jesus, come into my life. I accept You as my Lord and Personal Saviour. I believe in my heart You died and rose from the dead to save me. Thank You Lord for saving me, in Jesus' name Amen.
If you just prayed the prayer of salvation online please send your testimonies and prayer request to trem@trem.org, Phone: +234 1 773 8584