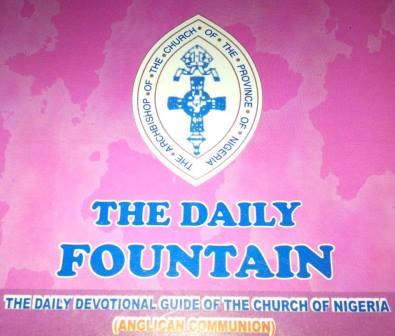 The Daily Fountain Devotional of the Church Of Nigeria (Anglican Communion) 22 November 2021 – Leading By Example
Click HERE to Read Previous MESSAGES
TOPIC: Leading By Example
READ: 1 Thessalonians 2:9-16 (NKJV)
For you remember, brethren, our labor and toil; for laboring night and day, that we might not be a burden to any of you, we preached to you the gospel of God.
You [are] witnesses, and God [also,] how devoutly and justly and blamelessly we behaved ourselves among you who believe;
as you know how we exhorted, and comforted, and charged every one of you, as a father [does] his own children,
that you would walk worthy of God who calls you into His own kingdom and glory.
For this reason we also thank God without ceasing, because when you received the word of God which you heard from us, you welcomed [it] not [as] the word of men, but as it is in truth, the word of God, which also effectively works in you who believe.
For you, brethren, became imitators of the churches of God which are in Judea in Christ Jesus. For you also suffered the same things from your own countrymen, just as they [did] from the Judeans,
who killed both the Lord Jesus and their own prophets, and have persecuted us; and they do not please God and are contrary to all men,
forbidding us to speak to the Gentiles that they may be saved, so as always to fill up [the measure of] their sins; but wrath has come upon them to the uttermost.
THE MESSAGE:
In our passage today, Apostle Paul shared his experience and that or his companions, how they "worked night and day, that we may not burden any of you, while we preached to you the gospel of God (verse 9). Furthermore, he spoke of "how holy and righteous and blameless was our behaviour to you believers "(verse 10) and "how like a father with his children, we exhorted each one of you and encouraged you and charged you to live a life worthy of God, who calls you into His own kingdom and glory " (verses 11-12)
Paul and his companions were leaders by example. They had worked very hard so that they could meet their own needs and be able to help others. Paul's team was concerned that their own behaviour should not be an obstacle to anyone hearing the Gospel. Preachers must be models in words and conduct (1 Timothy 4:12). "Do what I say, not what I do" has no place in this vocation. We serve a holy and just God and our lives must reflect this fact.
PRAYER: Heavenly Father, help my actions to always match my words. May I not be an embarrassment to Your kingdom. Amen.