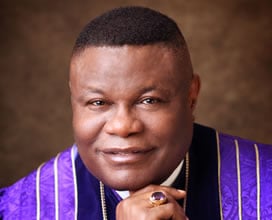 Declare The Word By Bishop Mike Okonkwo
Click HERE for Previous MESSAGES by Bishop Mike Okonkwo
Topic: Declare The Word
Dearly Beloved, I have come your way this wonderful morning, to share with you on the importance of declaring the Word, even in the face of contradictory evidence, declare only what God has said. Isaiah 40:8 (EasyEnglish Bible) says "Grass will die and a flower will fall to the ground. But a word that our God speaks will be true for all time." It doesn't matter what that situation or circumstance is saying, because the Word of the Lord stands sure.
God speaking in the book of Isaiah 55:11 (KJV) says "So shall my word be that goeth forth out of my mouth: it shall not return unto me void, but it shall accomplish that which I please, and prosper in the thing whereto I sent it." At the beginning of the year, God told us that this is our year of All Grace, and the scripture in Isaiah tells us that the word must prosper, there must be a manifestation, and so this should give you confidence knowing that the word must prosper in your life.
The question now is what do you believe, and what are you saying? Are you allowing your situation dictate to you, or are you taking counsel from the Word of God? This is where the rubber meets the road. Yes I understand that sometimes the circumstances are so challenging and difficult, but my bible tells me in Luke 1:37 (NKJV) "For with God nothing will be impossible." It also says in Genesis 18:14 (NKJV) "Is anything too hard for the Lord?…" Child of God, no matter how deep the storm is, Jesus is the Master over that storm. I declare to you that there's hope for you.
One thing you must never allow is for the enemy to run roughshod over you, no, get up and declare your rights and privileges in Christ. Stare that situation in the face and speak the word to it. The bible says in Mark 11, what you shall say to your mountain, so you have authority. Exercise your authority and dominion; don't allow the challenges of life shut you up. You must understand that nothing takes God unawares, God knew exactly what would happen today March 8, 2020 ever before we came into this day, and He has sent His Word ahead of today, and not just for today alone, but for the entire year, so that you know exactly what He has already done on your behalf. His word tells us what He has done, and therefore it is your responsibility to enforce what Christ has done for you.
Wake up everyday and declare what God has said concerning you. Proclaim your victory in Christ; it is your heritage. I declare to you that this year, the Grace of God will be manifested in every area of your life. No power of darkness will stop you. Creation will favor you; your ground will always produce. Only good news will be heard from your camp. Sickness and diseases will never come near your body. The type of favor you have never known will rest upon your life. I will hear your testimonies. I bless you in Jesus' name.
Maranatha!
In His Royal Service
Dr. Mike Okonkwo
The Presiding Bishop
In case you don't know, Dr. Mike Okonkwo is the Presiding Bishop of The Redeemed Evangelical Mission (TREM); a versatile man of God with over 30 years of dedicated service unto the Lord.
Flatimes' Notice Board: Until you are born again, God ever abiding presence will never be with you. You must be born again to enjoy continuous victory. Please say the displayed prayer below in faith:
Lord Jesus, come into my life. I accept You as my Lord and Personal Saviour. I believe in my heart You died and rose from the dead to save me. Thank You Lord for saving me, in Jesus name Amen.
If you just prayed the prayer of salvation online please send your testimonies and prayer request to trem@trem.org, Phone: +234 1 773 8584