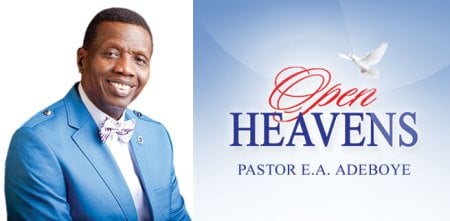 Open Heaven 18 April 2019 Thursday Daily Devotional By Pastor E. A. Adeboye – Grace in Stages
View Previous Open Heaven Daily Devotional HERE
Topic: Grace in Stages (Open Heaven 18 April 2019)
Memorise: "But grow in grace, and in the knowledge of our Lord and Saviour Jesus Christ. To him be glory both now and for ever. Amen."- 2 Peter 3:18
Read: 2 Corinthians 9:8-14 (KJV)
8 And God is able to make all grace abound toward you; that ye, always having all sufficiency in all things, may abound to every good work:
9 (As it is written, He hath dispersed abroad; he hath given to the poor: his righteousness remaineth for ever.
10 Now he that ministereth seed to the sower both minister bread for your food, and multiply your seed sown, and increase the fruits of your righteousness;)
11 Being enriched in every thing to all bountifulness, which causeth through us thanksgiving to God.
12 For the administration of this service not only supplieth the want of the saints, but is abundant also by many thanksgivings unto God;
13 Whiles by the experiment of this ministration they glorify God for your professed subjection unto the gospel of Christ, and for your liberal distribution unto them, and unto all men;
14 And by their prayer for you, which long after you for the exceeding grace of God in you.
Bible in One Year: Genesis 17-18, Jeremiah 20:7-18
Open Heaven 18 April 2019 Thursday MESSAGE:
Growth and progressive multiplication has been central to God's purpose and agenda for mankind from the beginning of creation. Through His declarations in Genesis 1:22&28, God coded growth and increase into the fabric of everything He created at the elemental level, such that the propagation and future development of all created things occurs naturally through the process of growth and progressive multiplication. As a vital ingredient necessary for actualizing God's purpose and agenda in man's life, God's grace also has the capacity to grow and multiply. God's grace is His unmerited favour made known through Jesus Christ, and it is expressed in the redemption and full forgiveness of sinners through faith in Him (Titus 2:11-12). At its basic stage, God's grace offers to all human beings forgiveness, redemption from sin and adoption into God's family. After enjoying the benefits of this basic stage of grace, God expects every converted person to grow in grace from one level of glory to another. The spiritual development of believers is a growth of grace that can be likened to the growth of infants into adults. Just as every father wants his baby to grow into the full stature of a man or woman, so does our heavenly Father want us to grow into the full stature of Christ (Ephesians 4:13).
In 2 Peter 3:18, the Holy Spirit admonishes us to grow in grace and in the knowledge of our Lord Jesus Christ. This establishes the growth of God's grace in the life of every believer as a rule of Christian living. In Ephesians 4:13, the Holy Spirit further tells us that Christian growth must continue until we become perfect in faith and in the knowledge of God, to the measure of the fullness of Christ. Contrary to this expectation, many individuals in the Body of Christ are like sickly plants with very feeble growth, because they are not ready to put in the work or make the sacrifices that are needed to help them grow at the pace that God desires (James 1:25). Lack of spiritual growth in the Body of Christ is also caused by the reduced emphasis on the teaching ministry in churches and a clear departure from the principles and practice of sanctification by Church leaders. The Christian life is not meant to be stagnant; rather, it must be a progressive experience of encounters with God. Through constant Bible study and emphasis on growth in grace, let us daily aim to be perfect in our Christian character (2 Peter 1:5-8). Our love for Christ should wax stronger and stronger, even as our will becomes subordinate to the will and purpose of God (Acts 21:14).
Open Heaven 18 April 2019 Thursday Prayer Point:
Father, please don't let me remain stagnant; help me to grow daily in You in Jesus' Name.
Also Read: Open Heaven 17 April 2019 – Ignore Satan's Counterfeit
Open Heaven 18 April 2019 Thursday Hymn 12: Deeper, Deeper In The Love Of Jesus
1 Deeper, deeper in the love of Jesus
Daily let me go;
Higher, higher in the school of wisdom,
More of grace to know.
Chorus:
Oh, deeper yet, I pray,
And higher every day,
And wiser, blessed Lord,
In Thy precious, holy Word.
2 Deeper, deeper, blessed Holy Spirit,
Take me deeper still,
Till my life is wholly lost in Jesus,
And His perfect will.
3 Deeper, deeper! though it cost hard trials,
Deeper let me go!
Rooted in the holy love of Jesus,
Let me fruitful grow.
4 Deeper, higher, every day in Jesus,
Till all conflict past,
Finds me conqu'ror, and in His own image
Perfected at last.
5 Deeper, deeper in the faith of Jesus,
Holy faith and true;
In His pow'r and soul exulting wisdom
Let me peace pursue.
Open Heaven 18 April 2019 Thursday Daily Devotional guide was written by Pastor E.A. Adeboye, the General Overseer of the Redeemed Christian Church of God, one of the largest evangelical church in the world and also the President of Christ the Redeemer's Ministries. The Open Heavens devotional application is available across all mobile platforms and operating systems: iOS, Android, Blackberry, Nokia, Windows Mobile and PC. Open Heaven 18 April 2019 Thursday Daily Devotional
Flatimes Notice Board: Until you are born again, God ever abiding presence will never be with you. You must be born again to enjoy continuous victory. Please say the displayed prayer below in faith:
Lord Jesus, come into my life. I accept You as my Lord and Personal Saviour. I believe in my heart You died and rose from the dead to save me. Thank You Lord for saving me, in Jesus name Amen.
If you just prayed the prayer of salvation online please send your testimonies and prayer request to contact@faithoyedepo.org, 07026385437 OR 08141320204.