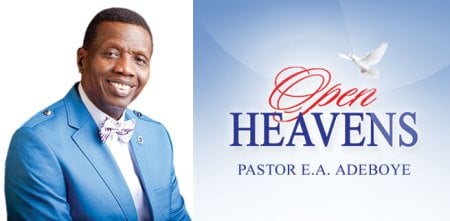 Open Heaven 26 December 2020 Saturday Daily Devotional By Pastor E. A. Adeboye – Submission And Victory
Click HERE for Previous Open Heaven Devotional
Topic: Submission And Victory (Open Heaven 26 December 2020)
Memorise: Submit yourselves therefore to God. Resist the devil, and he will flee from you. – James 4:7
Read: Matthew 8:5-9 (KJV)
5 And when Jesus was entered into Capernaum, there came unto him a centurion, beseeching him,
6 And saying, Lord, my servant lieth at home sick of the palsy, grievously tormented.
7 And Jesus saith unto him, I will come and heal him.
8 The centurion answered and said, Lord, I am not worthy that thou shouldest come under my roof: but speak the word only, and my servant shall be healed.
9 For I am a man under authority, having soldiers under me: and I say to this man, Go, and he goeth; and to another, Come, and he cometh; and to my servant, Do this, and he doeth it.
Bible In One Year: 2 John 1, 3 John 1
Open Heaven 26 December 2020 MESSAGE:
Submission goes hand in hand with victory. James 4:7 says that you should submit yourself first to God, then you can resist the devil and he will flee. In other words, if you have not submitted yourself to God, you cannot have victory over the devil. Many of us don't want to submit to God, yet we want to cast out demons. Malachi 3:10 says we should bring all the tithes into His storehouse; we do not want to obey that, but we want God to open the windows of Heaven and just bring the breakthroughs. This will not happen because if you have not submitted to God's conditions, you cannot get anything from Him.
Also See: Open Heaven 27 December 2020 – The Power Of Physical Fellowship
The people in the military understand the concept very well. They know that as long as they remain submissive to their superiors, they will continue to enjoy authority over their subordinates. That is what the centurion was talking about in Matthew 8:9 when He told Jesus:
"For I am a man under authority, having soldiers under me: and I say to this man, Go, and he goeth; and to another, Come, and he cometh; and to my servant, Do this, and he doeth it."
Is there any area of your life in which you have been praying and trusting God for a miracle? You may need to check your level of submission to God. Once you are completely submissive to Him, victory is sure. Saul experienced defeats and died a shameful death because he felt too big to submit to God. David on the other hand was a great king, winning many victories because he was submissive to God. He said in Psalm 40:8:
"I delight to do thy will, O my God: yea, thy law is within my heart."
Wives remember that the way to get what you want from your husband is through submission, not arguments and fights. I am yet to meet a man who can resist a submissive wife. When he says something that you do not agree with, don't go straight into argument mode, go first into submission mode. You can then suggest an alternative. This way, he will hear you out. Now, if he does not go with your idea, you must agree with him and do as he has said, but at least you know that he considered your idea. And now, having established in his mind your submissiveness, it is easier to get anything from him than when he considers you stubborn.
Open Heaven 26 December 2020 Key Point:
The lower you stoop, the higher you will rise.
Open Heaven 26 December 2020 Hymn 27: Take My Life, And Let It Be
Take my life and let it be
Consecrated, Lord, to Thee.
Take my moments and my days,
Let them flow in endless praise.
Take my hands and let them move
At the impulse of Thy love.
Take my feet and let them be
Swift and beautiful for Thee.
Take my voice and let me sing,
Always, only for my King.
Take my lips and let them be
Filled with messages from Thee.
Take my silver and my gold,
Not a mite would I withhold.
Take my intellect and use
Every pow'r as Thou shalt choose.
Take my will and make it Thine,
It shall be no longer mine.
Take my heart, it is Thine own,
It shall be Thy royal throne.
Take my love, my Lord, I pour
At Thy feet its treasure store.
Take myself and I will be
Ever, only, all for Thee.
Open Heavens Daily Devotional guide was written by Pastor E.A. Adeboye, the General Overseer of the Redeemed Christian Church of God, one of the largest evangelical church in the world and also the President of Christ the Redeemer's Ministries. The Open Heavens devotional application is available across all mobile platforms and operating systems: iOS, Android, Blackberry, Nokia, Windows Mobile and PC.
Flatimes Notice Board: Until you are born again, God ever abiding presence will never be with you. You must be born again to enjoy continuous victory. Please say the displayed prayer below in faith:
Lord Jesus, come into my life. I accept You as my Lord and Personal Saviour. I believe in my heart You died and rose from the dead to save me. Thank You Lord for saving me, in Jesus name Amen.
If you just prayed the prayer of salvation online please send your testimonies and prayer request to info@rccg.org, +234-1-8447340, +234-0-7098213112.