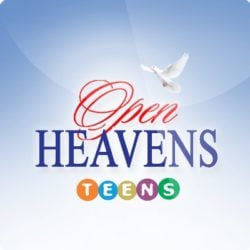 Topic: Understanding I [Open Heavens for Teens 1 March 2020]
Click HERE for Previous Open Heaven Devotional for Teens
MEMORISE: Wisdom is the principal thing; therefore get wisdom: and with all thy getting get understanding. – Proverbs 4:7
READ: Luke 24:45
45 Then opened he their understanding, that they might understand the scriptures,
MESSAGE:
Understanding is one great thing that everyone should possess. Proverbs 4:7 tells us that in all our getting, we must ensure to get understanding. Understanding will make you stand out among your peers; you will be a genius. In Luke 2:47, the Bible says of the 12 years old Jesus:
"And all that heard him were astonished at his understanding and answers."
Many people of the world think that they have understanding because they know how to form powerful quotes, but their understanding is child's play because 1 Corinthians 1:25 says that the wisdom of men is foolishness to God. True understanding comes from the Spirit of God as seen in Exodus 31:3:
"And I have filled him with the spirit of God, in wisdom, and in understanding, and in knowledge, and in all manner of workmanship,"
The more the Holy Spirit dwells in you, the deeper your understanding of life and circumstances. If you want to be a genius, if you want to have understanding beyond you peers, fellowship with the Holy Spirit.
Action Point:
Fellowship with the Holy Spirit by speaking in tongues for at least 30 minutes.
BIBLE IN ONE YEAR: Numbers 26-27; Mark 8:22-38
Hymn 3:
1 When we walk with the Lord in the light of His Word,
What a glory He sheds on our way!
While we do His good will,
He abides with us still,
And with all who will trust and obey.
Chorus:
Trust and obey, for there's no other way
To be happy in Jesus, but to trust and obey.
2 Not a shadow can rise, not a cloud in the skies,
But His smile quickly drives it away;
Not a doubt or a fear, not a sigh or a tear,
Can abide while we trust and obey.
3 Not a burden we bear, not a sorrow we share,
But our toil He doth richly repay;
Not a grief or a loss, not a frown or a cross,
But is blessed if we trust and obey.
4 But we never can prove the delights of His love
Until all on the altar we lay;
For the favor He shows, for the joy He bestows,
Are for them who will trust and obey.
5 Then in fellowship sweet we will sit at His feet,
Or we'll walk by His side in the way;
What He says we will do, where He sends we will go;
Never fear, only trust and obey.
Daily Devotional for Teen's guide was written by Pastor E.A. Adeboye, the General Overseer of the Redeemed Christian Church of God, one of the largest evangelical church in the world and also the President of Christ the Redeemer's Ministries.