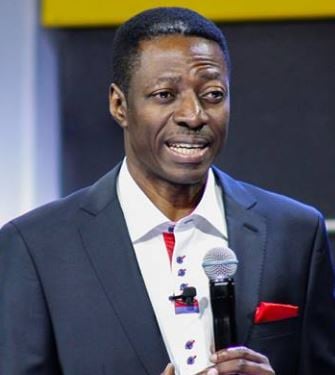 Hearing From God by Pastor Sam Adeyemi
Click HERE for Previous MESSAGES by Pastor Sam Adeyemi
John 5:30 – "I can of mine own self do nothing: as I hear, I judge: and my judgment is just; because I seek not mine own will, but the will of the Father which hath sent me."
This life was designed to be a walk with God in a state of rest. This rest began in the story of rest. In Genesis 1 and 2 God finished the foundational work of creation and then He rested. The foundation defines the building or the bridge. When God in Genesis did the work of creation, it was the foundational work of creation that He did so everything was already finished as buttressed by Hebrews 4:9 and Revelation 13:8. When God created the first Mango tree, He created a seed in it so that all the Mango trees that would ever exist was worked into it. Same with the creation of Man.
After He created Man, God rested. Man's first full day was on the day if rest. It was designed for total concentrated focus on God. God would inspire Man and Man would interact with nature after that and would see things he never thought was possible. So when you find alignment with God's plan, heaven's resources will come to aid us with that plan.
Also Read: Grace for Financial Success by Pastor Sam Adeyemi
Life outside of God's will can be very burdensome and tiring as seen in Romans 8:28. Jesus saw how people were worn out and called out in Matthew 11:28-30. What does being a Christian mean to you? Is it following a system of Dos and Don'ts or is it a relationship with God? If it's a relationship of Dos and Don'ts, you won't make it. You're in for a struggle. It's a relationship with God that's Christianity. Righteousness is a gift from God.
Jesus said I will show you how to take a real rest. Let's yoke with God. Go at His pace. It's God that's carrying the yoke and we are tagging along. Live your life and obedience, alignment with the Father's plans and get God-sized results. God's voice is critical in living in rest.
Tips on hearing from God
To hear from God, you must prioritize your relationship with Him over obeying rules set by Man. In John 5:16-19 shows that Jesus does what the Father does. If you're going to walk with God you are going to have to be flexible.
To hear from God, listen to God. In communication there are four skills; read, talk, write and listen! You talk nothing happens but when God talks power flows. Listening is part of prayer, keep quiet and let God talk. If you hear humans more than you hear God, your heart will be filled with fear instead of faith. Cut down on the internal and external noise.
To hear from God, be free from bias and prejudice. Nothing obstructs our capacity to hear God like selfishness. James 4:3-4. 1st John 2:15-17. You cannot approach God with bias or prejudice. If we'll be creators like our Father in heaven, we would have to rise above prejudice. Acts 10
A lot of the things we do is tradition. We know what God said, do we know what God is saying?
Pastor Samuel Adeyemi is the Senior Pastor of Daystar Christian Centre, a fast growing, life changing church committed to "raising role models" based in Lagos. He is also the President of Success Power International
Flatimes Notice Board: Until you are born again, God ever abiding presence will never be with you. You must be born again to enjoy continuous victory. Please say the displayed prayer below in faith:
Lord Jesus, come into my life. I accept You as my Lord and Personal Saviour. I believe in my heart You died and rose from the dead to save me. Thank You Lord for saving me, in Jesus name Amen.
If you just prayed the prayer of salvation online please send your testimonies and prayer request to info@dunamisgospel.org, +234-803-3144-509, 234-803-320-0320.