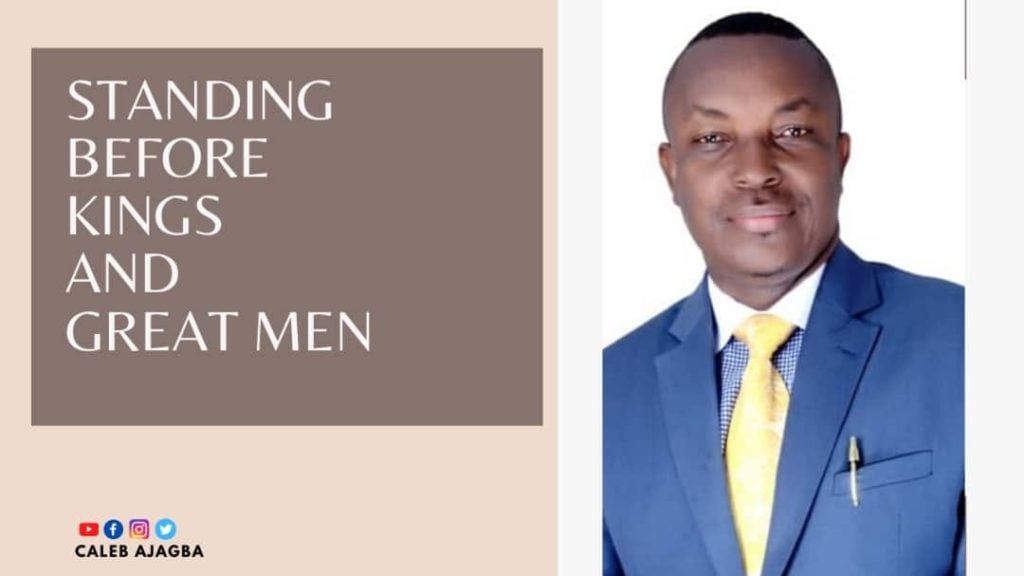 Standing Before Kings And Great Men And Women (Part 5) by Pastor Caleb Ajagba
PROTOCOL 5:
EMPHASIZE ON AREAS OF YOUR STRENGTH
When you are face to face with Kings and great men, ensure that you emphasize on areas of your strength and as much as possible avoid focusing on your weaknesses.
In 1 Samuel 17:33-37 we see King Saul doubting the capability of David to fight against Goliath and the response of David.
"And Saul said to David, Thou art not able to go against this Philistine to fight with him: for thou [art but] a youth, and he a man of war from his youth. And David said unto Saul, Thy servant kept his father's sheep, and there came a lion, and a bear, and took a lamb out of the flock: And I went out after him, and smote him, and delivered [it] out of his mouth: and when he arose against me, I caught [him] by his beard, and smote him, and slew him. Thy servant slew both the lion and the bear: and this uncircumcised Philistine shall be as one of them, seeing he hath defied the armies of the living God. David said moreover, The LORD that delivered me out of the paw of the lion, and out of the paw of the bear, he will deliver me out of the hand of this Philistine. And Saul said unto David, Go, and the LORD be with thee" 1 Samuel 17:33-37 KJV.
Also Read: Standing Before Kings And Great Men And Women (Part 4)
Every inquiry from Kings and great men is to determine your suitability and capability for what you are asking for. It is not a sign of humility to undermine and demean yourself before Kings and great men. Kings and great men like people who are bold, confident and courageous. They love people who are assertive. They detest people who have low mentality which points to their lack of capacity to undertake assigned tasks. Any time Kings throw up questions that point to your lack of capacity, all they want is for you to demonstrate that you are otherwise. They want to know of what you had done before and how your current experience can be an added advantage to what you are being considered for.
Also Read: Standing Before Kings And Great Men And Women (Part 3)
Every time your capability is doubted it is a golden opportunity for you to demonstrate that you are more than what people think and say about you. David at this time, had fought against the Lion and bear but he kept all these to himself until the appointed time when his credentials will come under scrutiny. The challenges you are running away from today will be your undoing tomorrow. Every challenge that presents itself today is going to be part of your winning credentials and your score card tomorrow. If David had run away from the challenges of facing the Lion and the bear in the bush, he would have had very weak credentials to present for the national assignment of fighting against Goliath. So learn how to build a track record of performance and use same as ocassion demands.
Also Read: Standing Before Kings And Great Men And Women (Part 2)
Secondly, when you are face to face with Kings and great men, it is advisable you have your pen and jotter handy in readiness to document or write specific instructions of what Kings and great men say. When you appear before them, appear prepared. This gives them the impression that you are thorough and detailed in your approach. It also reassures them that every useful information and details would be properly recorded and adhered to. The moment you start writing what they are saying, they will become more organized and have a sense of importance. You will be presenting yourself as unprofessional and unprepared if you appear before notable personalities especially for scheduled meetings without jotter and pen to take down key decisions reached.
Once the meeting is over, you are expected to act according to the key decisions reached and it would be unprofessional and improper to contact them to reconfirm major decisions reached. If you do, they will think that you lacked proper coordination. So if you can, it is ideal to send an executive summary of the meeting to them so as to reassure them that you got all the details correctly.
I will be back next week, God willing!
Written by Caleb Ajagba