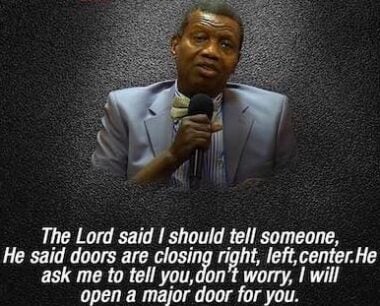 Open Heaven 23 January 2022 Sunday Daily Devotional By Pastor E. A. Adeboye – Let There Be Light VII
Click HERE for Previous Open Heaven Devotional
Open Heaven 23 January 2022 TOPIC: Let There Be Light VII
MEMORISE: For God, who commanded the light to shine out of darkness, hath shined in our hearts, to give the light of the knowledge of the glory of God in the face of Jesus Christ. – 2 Corinthians 4:6
READ: Esther 2:5-9 (KJV)
5 Now in Shushan the palace there was a certain Jew, whose name was Mordecai, the son of Jair, the son of Shimei, the son of Kish, a Benjamite;
6 Who had been carried away from Jerusalem with the captivity which had been carried away with Jeconiah king of Judah, whom Nebuchadnezzar the king of Babylon had carried away.
7 And he brought up Hadassah, that is, Esther, his uncle's daughter: for she had neither father nor mother, and the maid was fair and beautiful; whom Mordecai, when her father and mother were dead, took for his own daughter.
8 So it came to pass, when the king's commandment and his decree was heard, and when many maidens were gathered together unto Shushan the palace, to the custody of Hegai, that Esther was brought also unto the king's house, to the custody of Hegai, keeper of the women.
9 And the maiden pleased him, and she obtained kindness of him; and he speedily gave her her things for purification, with such things as belonged to her, and seven maidens, which were meet to be given her, out of the king's house: and he preferred her and her maids unto the best place of the house of the women.
BIBLE IN ONE YEAR: Exodus 18-21
Open Heaven 23 January 2022 MESSAGE:
"Let there be light" could mean, "Let there be shining beauty". Darkness is ugly, and beauty is neither shown nor appreciated in it. For example, when darkness envelopes a beautiful woman, no one can see or appreciate her beauty. Conversely, when the light of God shines upon the same person, her beauty would be seen and appreciated by all.
Also Read: Open Heaven 24 January 2022 – Let There Be Light VIII
In our Bible reading today, we read of God's light shining upon the slave girl Esther who later became Queen. The secret is the light of God that shone upon her – nothing more. Nobody appreciates beauty in darkness. For example, in the daytime, Jacob admired Rachel so much that he opted for her instead of her elder sister. However, when darkness came and Leah was presented, he did not know who was who until the following morning (Genesis 29:16-19, 23-26).
An adage says that "Beauty is in the eye of the beholder". What many fail to know is that beauty is synonymous with light. It is she who has the light of God on her that looks beautiful. There was a woman who was beautiful in the real sense of it. She was a woman beautiful not only to behold but also to be desired as a wife. However, the husband turned her to a punching bag! She appeared repulsive to the husband, despite her beauty and accomplishments. The truth of the matter was that darkness so beclouded her beauty that her husband could not appreciate it. The conclusion of the matter is found in our memory verse of today.
Do you want all forms of darkness and evil to depart from you? Do you want the light of God to beam and radiate His glory all over you?
Make up your mind to surrender all to the Light – Jesus Christ, and the light of God would shine upon you. Surrender all to the Father of lights today and every darkness beclouding your vision from seeing and experiencing His glory will flee, in the mighty name of Jesus.
Open Heaven 23 January 2022 PRAYER POINT:
Father, please let Your light shine upon me and reveal Your glory upon my life, in Jesus' name.
Scroll Down for RCCG FASTING AND PRAYER POINTS
Open Heaven 23 January 2022 HYMN 12: My Faith Looks Up To Thee
1. My faith looks up to Thee,
Thou Lamb of Calvary,
Saviour divine!
Now hear me while I pray,
Take all my guilt away,
O let me from this day
Be wholly Thine!
2. May Thy rich grace impart
Strength to my fainting heart,
My zeal inspire;
As Thou hast died for me,
O may my love to Thee
Pure, warm and changeless be
A living fire!
3. While life's dark maze I tread,
And grief around me spread,
Be Thou my guide;
Bid darkness turn to day,
Wipe sorrow's tears away,
Nor let me ever stray
From Thee aside.
4. When ends life's transient dream,
When death's cold sullen stream
Shall o'er me roll;
Blest Saviour, then in love,
Fear and distrust remove;
O bear me safe above,
A ransomed soul.
RCCG FASTING AND PRAYER GUIDE FOR YEAR 2022 (50 DAYS)
DAY 13: SUNDAY 23RD OF JANUARY, 2022
TOPIC: PRAYER FOR THE FULFILMENT OF PROPHECY (FAMILIES)
BIBLE TEXT: ISAIAH 8:18, HEBREWS 2:13
Prophecy to a family, is a message from God to man, telling man what will happen in the future which may be directly from God or through his prophet.
PRAYER GUIDE:
Father, thank you for your grace and mercy that my family enjoys everyday in Jesus name. Psa.107:1-2
Father, thank you for your love for my family in Jesus name. Isaiah 43:4
Father, thank you for your grace, favour and mercy that delivered my family from destruction in Jesus name. Gen 6:8.
Father, thank you for your mercy that single out my family for blessing in Jesus name.Gen.26:12-14.
Father, thank you for making my family a chosen generation in Jesus name. 1.Pet.2:9.
Father, thank you for making my family for signs and for wonders in Jesus name. Isaiah 8:18.
Father, thank you for not allowing gross darkness of the enemies to cover my family in Jesus name. Isa 60:2.
Father, have mercy upon my family and break every yoke of hopelessness in my family in Jesus name. 1ki.17:12-16.
Father, have mercy upon my family and terminate barrenness in Jesus name. Gen.18:10-14, 21:1-3.
Father, have mercy upon my family and protect us against the attack of the enemies in Jesus name. Isa 37:33-35.
Father, have mercy upon my family and help us to complete all the abandoned projects this year as you have prophesied in Jesus name. Zech.4:9.
Father, have mercy upon my family and protect us against sickness and disease as you have prophesied this year in Jesus name. Deut.7:15.
Father, have mercy upon my family and make us like a tree planted by the rivers of water in Jesus name. Psa 1:3.
Father, arise and let every wasters of joy, blessings be destroyed in my family in Jesus name. Isa 54:16.
Father, every weapon fashioned against the fulfilment of your prophesies and good thoughts for my family shall not prosper in Jesus name. Isaiah 43:17.
Open Heavens 2022 Daily Devotional guide was written by Pastor E.A. Adeboye, the General Overseer of the Redeemed Christian Church of God, one of the largest evangelical church in the world and also the President of Christ the Redeemer's Ministries. The Open Heavens devotional application is available across all mobile platforms and operating systems: iOS, Android, Blackberry, Nokia, Windows Mobile and PC.
Flatimes Notice Board: Until you are born again, God ever abiding presence will never be with you. You must be born again to enjoy continuous victory. Please say the displayed prayer below in faith:
Lord Jesus, come into my life. I accept You as my Lord and Personal Saviour. I believe in my heart You died and rose from the dead to save me. Thank You Lord for saving me, in Jesus' name Amen.
If you just prayed the prayer of salvation online please send your testimonies and prayer request to info@rccg.org, +234-1-8447340, +234-0-7098213112.
Open Heaven 23 January 2022 Sunday